32GB iCobra USB/Lightning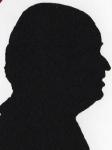 This is a slightly oversized 32GB USB stick large enough to be useful even for the largest videos. This however can also connect to those iOS devices so a good way to transfer files between the two operating systems without much hassle.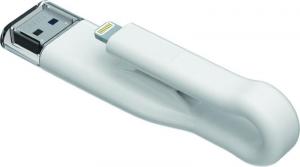 click image to enlarge
For those who have seen the snake after which this named it's the way it arches it neck before striking that gives it the shape.
9.5cm long 2.1cm wide and .8cm thick at the USB end, go back 3cm and where the Lightning connector is it becomes 2cm thick and 2.4cm thick at the back.
When connected to most iOS devices the USB front end disappears under the device so that only the back 5.5cm are visible.
It is also possible to have it as one long connection as the Lightning connector can unclip from its piggy back position on top of the USB end and become a 16cm long device. It can be used either way and it easily clips back in position on the back of the USB end.
Of course there is an App downloadable from the Apple store which enables you to manage your files between various iOS devices. There is a multi-language Quick Start sheet to explain the iCobra. Do not try to use this device as a direct transfer between USB and iOS. Data must be stored on the device and then offered to the other operating system for transfer.
The Windows end is USB3 and the stated file transfer rates to and from the iCobra are Reading 100MB/s and Writing 20MB/s. The Lightning end is slower at 20MB/s Reading and Writing 10MB/s. In all cases these are maximum figures. In rough terms halve the USB3 speeds for those using USB2.
I copied around 200 jpg images in 20 folders a total of just under 1GB in size in around 30seconds. This of course is not about speed but about ability to just plug in a device get the data and files you want and then plug in to a device using a different connection method and quickly having those files available.
This unit works well and provides a quick method of transferring files that are useable on both Windows and MAC devices.
The EMTEC Connect iCobra is available from the first link below for £73.65 with free delivery.
http://www.amazon.co.uk/gp/product/B018J4JWT8?ie=UTF8&tag=gadge0a-21&linkCode=as2&camp=1634