2.1 Speaker System Gravity Carbon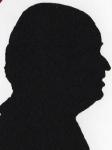 Music plays a big part in my life and while earbuds may help pass the time on a journey a decent set of headphones or as here a 2.1 speaker system in the home gives a far more rounded sound and may even take you to the performance as laid down by the musicians. My favourite Genre is Jazz and then small groups and a live performance.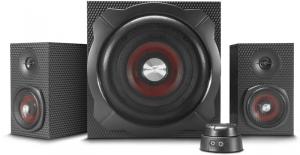 click image to enlarge
This is a small 2.1 system as it has a sub-woofer to enhance the base and a pair of speakers for the rest of the sound range. While I have a pair of quality – large – speakers these days you do not need huge units and nor do they need to be expensive these at the time of writing are only 80 Euros (around £70).
The sub-woofer is a virtual cube at 26cm. The speakers are 18x11x11cm so easily fit on a shelf or window sill.
The two speakers have a single hard wired lead of 1.8metres.
We are all used to remote controls today, here something only those of us of a certain age will remember a corded remote control; this means volume is controlled by a knob linked to the sub-woofer. Of course you can set a mid range volume and if outputting sounds from your phone then adjust from there.
Each of the speakers weigh 534grams, the sub-woofer weighs 3kilos. The hard wired mains lead is 1.3metres long and finally the corded remote is 1.5metres.
The corded remote is circular at 7cm across and 4cm tall. Its volume control knob is the top part of the unit. The back has two hard wired leads emerging from the rear a 3.5mm lead that allows connection from any source be it your phones earbud socket or an output from an MP3 player etc. the other lead goes to a pair of inputs (one red and one white) on the back of the sub-woofer. The other pair of leads on the sub-woofer also confusingly marked red and white are for the leads from the speakers which have black plugs. However in faint type on the rear of the sub-woofer which pair is which are marked.
Above these connections are volume and bass knobs. When you first switch on a purple LED will flash if you have a 3.5mm lead connected. If not it will flash blue and you can pair a Bluetooth device. Full instructions in four pages of the instruction manual in that are in English.
The front of the remote has a 3.5mm connection for headphones for those times when you do not want to disturb others; there is also another 3.5mm for Aux In.
While you can connect anything with a 3.5mm lead I suspect most will use these to get a better sound from their phone, this system will improve almost any output from a cord even if you use decent headphones to your phones 3.5mm socket as this unit has a Peak Power of 120watts.
The Gravity Carbon 2.1 PC Subwoofer System is available from their website for 80 Euros or from Amazon for £86.25.