D-Link Modem Router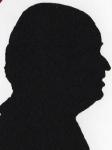 A modem router is not something you change that often, unless of course you get a fault. For most people it either does the job or it does not, the one real exception is the Wi-Fi if you have a property where it only just covers then you may change.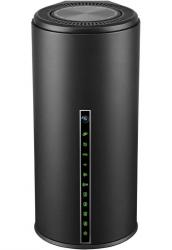 click image to enlarge
This unit has a more powerful Wi-Fi than most units so this may be a solution struggling with Wi-Fi reception.
It is a near round unit at 10.5x8.5cm and is 22cm tall there are no external aerials, so just add a few centimetres for any connections to the 10.5cm depth and that's it.
The connections on the rear from bottom to top are DC input, power on/off button, flush Wi-Fi on/off button, four Ethernet ports, a USB2 port, a USB3 port and finally DSL input port. For those who have 'the lounge police' to worry about it is slate grey in colour.
The front has a vertical line of LEDs from top to bottom, WPS button with LED, Internet, ADSL, USB3 and USB2, Wireless 2.4 and Wireless 5GHz, the next four can be green or orange dependant on if the connection is to Gigabit Ethernet or 10/100 either will blink during transmission and finally a green LED to denote power is on.
Finally for connections underneath the unit almost hidden by the four small rubber feet that raise it by .5cm from your desk is a Reset button.
There is a printed Quick Installation Guide in 18 languages with four pages in each. This is repeated on a CD-ROM together with the 149 page User Manual in PDF format.
There is an Ethernet lead, an ADSL lead both quite short and a 2metre power lead.
Setup will only require the Quick Installation Guide unless this is going to be your first Modem Router. If this is the case it's probably a good idea to read the manual. The first thing to consider is where to site the modem router, somewhere in a central position should be ideal but this can be dictated by where your Master phone socket is as you should really connect to the Master rather than a secondary one and the provided ADSL cable is only short. The other factor is that it has to be within the length of the DC lead (2metres) provided.
If you are upgrading you already know all the above and probably have a perfect site before you power down your current unit be sure you know all the things you are going to be asked your ISP user name and password and possibly a few other things that are far easier to find while you still have Internet connectivity. If not it could mean a phone call to the ISP technical support.
Armed with that knowledge disconnect your current modem router and make a cup of coffee as it's probably best to wait around ten minutes or more before connecting the new unit.
I found no problems and those far corners that had flaky connection via Wi-Fi now allow connection without any difficulties.
The D-Link Wireless AC1900 DSL-3590L is available from the link below for £155.84 with free delivery.
http://www.amazon.co.uk/gp/product/B00PVEOTH0?ie=UTF8&tag=gadge0a-21&linkCode=as2&camp=1634