Remote Home Viewing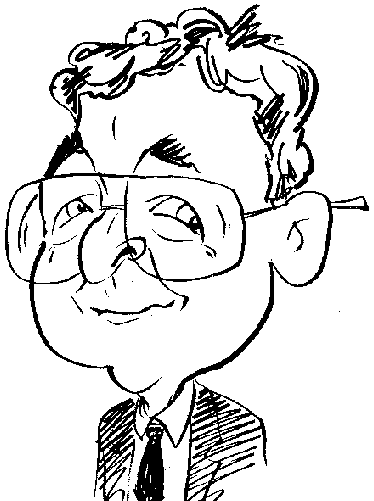 While not the same as "eyes in the back of your head", this next product can provide feedback as to what is happening in your home when you are out and about.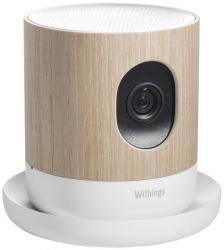 click image to enlarge
As the leader in the area of connected health solutions, Withings has developed its Home product. Behind its rather straightforward and plain name, the Home product combines a high quality security camera featuring built-in noise and movement detection features with air quality sensors that can alert users to possible air pollution issues. There is also an option to save up to 30 days of continuous recordings in the Cloud for later viewing.
Making up this kit is the Home device, table stand, power lead with interchangeable pin sockets and a Quick Start Guide. You also get a free Withings account which is accessible via a downloadable app. Currently this app is limited to various iPad, iPod Touch and iPhone devices running iOS 7 and later. This app also provides you with a more comprehensive User Manual. An Android app and a Web app are currently under development.
The cylindrical shaped Home device has dimensions of 85 x 75mm (Height x Diameter) which is made up of a translucent base ,capable of displaying colour codes indicating various status issues, and the main body of the unit encased within an interchangeable cover. By default the cover is that of European White Oak. This cover features a cut-out peep hole through which the unit's 5MP IP camera can performs its tasks of recording activity. It is possible to turn the cover so that it obstructs the camera lens and gives you a degree of privacy.
Positioned on the rear of the unit are connection sockets for power, Ethernet and standard USB. The power socket is slightly unusual in that its micro USB port is recessed into the body of the unit. This approach does reduce the possibility that the power lead might become accidently detached.
Along with the 5MP camera with 135 degrees wide angle viewing/capture and 12x zoom capability, the Home device features two digital microphones with audio echo cancellation and noise reduction. These particular features allow you to communicate with anybody within the vicinity of the Home unit. The camera module also supports night-vision and has a lullaby feature to play a simple tune for a user-designated time period when using this product as a baby minder.
The Home unit sits inside the supplied Frisbee-shaped table stand. You can position the Home unit at slightly different angles to target the area you wished covered. The device is held in possible by magnets built into the Home product.
Once you have attached the power lead to the Withings Home product, setting up this device is carried out via the iOS app. A free password-protected Withings account will need to be created if you do not already have one. A Bluetooth connection can quickly be established between the Home device and the Apple mobile unit. While you could opt for an Ethernet connection to add the Home device to your network, my preferred option was to go for a Wi-Fi link-up by using the Home's Quick Set-up procedure. This feature allows the Home device to share the Wi-Fi settings, already entered and stored on the iOS device, with no further user intervention.
As mentioned, the unit's camera is a 5MP model with 135 degrees wide angle capture/viewing and a zoom capability of 12x although this does reduce clarity a little. Night-vision and a lullaby option to play a simple time for a user-designated time period are available with this product when being used as a baby minder. The unit features 2 digital microphones with audio echo cancellation and noise reduction features plus a speaker so that you can communicate with anybody within the vicinity of the Home device.
With the connection established between an iOS device and the Withings Home, you will be presented with a Home screen showing the Home device which you can rename to something more suitable such as its location (Living room or Study). A drop-menu menu available from the 3-bar icon gives you the option to switch to a Live and Diary view or a Photo Album.
The Live and Diary view shows a combination of a live transmission and a scrollable diary containing the noteworthy events detected either due to motion or sound entered on a vertical time line. Indications are provided as to whether the event relates to motion or sound with a time stamp. A double tap on an event allows you to view the action, delete it or share it with others via a message, email, AirDrop or iCloud Photo Sharing.
The Live stream can be increased to full screen size following a double tap. This will also give options to set up the Lullaby feature or communication with those within range of the Home device. A two-finger gesture can be used to zoom in and out of the screen. When zooming is applied, auto-enhancing will be used with the results achieved being reasonable.
As well as creating the time line of events, the Home device products a Photo Album. A picture is taken of every event detected which is then stored in the Photo Album. These images can be shared, copied or printed although you will need access to a printer supporting AirPrint for this last feature.
The Withings Home also keeps a watch on the surrounding air quality to detect VOCs (Volatile Organic Compounds). It should be noted that this air detection does NOT include carbon monoxide. In order to carry out the detection of VOCs, a test run over 48 hours will need to be carried out to calibrate the system and provide accurate data.
Notifications, especially regarding noise and motion events, can appear like a deluge. This is primarily down to the fact that you are unable to adjust, other than turn on or off, the various detection options. As a result even the slightest noise and movement will be regarded as an event. This could well result in a data overload as your iOS device is bombarded with notifications.
The Withings Home product is a nice looking piece of furniture that would benefit from greater flexibility to adjust its features to help justify its price point of £169.95. Maybe the Android and Web based apps will go some way towards correct this.