TDK Wireless 360 and Trek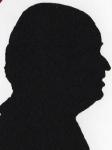 It's been a while since I have looked at speakers from TDK. Here a small unit called Trek and then a larger unit designed to give 360degree sound. Both give good sound and the decision on which to buy could be made on size alone.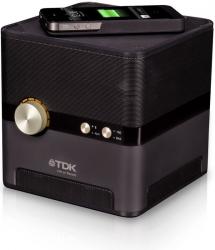 click image to enlarge
TDK Wireless 360
It is a near cube shape at 15x15x16cm, it weights 1.93kilos. It has a solid battery which lasts for a good time between charges.
The middle of the front has three buttons, a larger one on the left for volume with LED's that light around it. Towards the right two smaller buttons for connection type, Auxiliary or Bluetooth and then a dual Treble and Bass button both have LEDs beside them to show which part you are working with.
Apart from the base that is coned inwards and the majority of the top everything is covered with fine grill, a close inspection with a strong light reveals a speaker behind each side as well as a base unit with output around all four sides near the bottom. These are four 1inch speakers and a 4inch subwoofer. The speakers are 2watts each and the sub-woofer 15watts.
The rear has a large rubber bung that covers the connections. DC, USB, Auxiliary and an on/off slider. In use this can be in place apart from when you are using an Auxiliary cable.
Pairing was straightforward and sound quality was rather good with Bluetooth and Auxiliary.
This is light enough to be carried from room to room even by a child however the sound quality has depth and being able to adjust both bass and treble independently allows you to get the exact sound you like.
There is a small remote for those glued to the sofa. Several multi language instruction sheets are in the box and one of these is in English, there is also a separate illustration only Bluetooth pairing sheet.
The TDK Wireless 360 is available from the link below for £104.78 with free delivery.
http://www.amazon.co.uk/gp/product/B00AE7BP1C?ie=UTF8&tag=gadge0a-21&linkCode=as2&camp=1634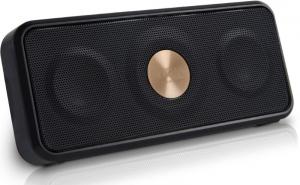 click image to enlarge
TDK Trek
This is a much smaller unit which could easily slip into a case or handbag possibly even a larger pocket of a coat. It can stand upright but is also designed with a grill cover that flips out to 45degrees to play leaning back which of course projects sound upwards from whatever it sits upon.
It is 17.5x7.5x2.5cm in its upright position, it weights 340grams.
The top has a line of rubberised controls with the right side having the connections behind a flip open rubberised door. From left to right they are on/off (glows orange when on), - and + volume (beeps when at maximum, Auxiliary glows orange when selected, Bluetooth glows blue and finally answer for phone use. The three connections on the side are Auxiliary input, micro USB for charging and on/off slider.
Up to 6 hours between charges is the stated time, I never got beyond 5½ hours, I found that when used with Auxiliary or Bluetooth the volume increase available was small, it is OK for personal listening but only when placed nearby, certainly not something to use from one room to another.
The TDK Trek is available from the link below for £60.56 with free delivery.
http://www.amazon.co.uk/gp/product/B00DW4L1HM?ie=UTF8&tag=gadge0a-21&linkCode=as2&camp=1634