DLink's AC1900 streaming gigabit router

As we move increasingly towards FTTC (fibre to the cabinet) for higher performance internet, there is an increasing requirement to separate the router from the modem. D-Link's DIR-880L Wireless AC1900 Dual Band Gigabit Cloud Router is a high performance unit which ticks all the right boxes for those who are also moving to file sharing and media streaming.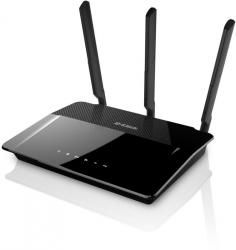 click image to enlarge
It is roughly 190 x 240 x 45mm in size and can sit flat on a desk or shelf or, alternatively, wall mounted. The keyhole slots in the rear face are double-ended so that the unit, when wall mounted, can be arranged with the antennas above or below the unit. In practice, when wall mounted, it makes sense to have the antennas above and the unit at a height where the WPS button and the USB ports can be easily reached. In use the central 200mm long antenna should be arranged vertically and the outer ones angled outwards at 45 degrees to obtain the best performance.
Virtually all the connections are on one of the long sides. In addition to the three antennas there are five Gigabit Ethernet ports (four LAN and one WAN); power; and USB 2.0. The WPS sync. Push-button is on one side and the USB 3.0 port on the other.
Both the unit and the antennas are white in colour and a fair amount of attention has been paid to design with the status LEDs and their associated annotations, in rather small silver lettering, are on the face of the unit so that, overall, it will not look out of place in home or office.
The Quick Installation Guide shows one how to connect the 880L to one's computer and to the Internet modem. As this latter could be cable, FTTC or ADSL the 880L can be employed in virtually any situation. Then, having opened a browser and using the IP address, Username and Password provided on a credit card sized reference one gets into the router's control panel with its nicely designed web interface.
The Wizard guides one through installation, configuring the network and WiFi settings and setting up one's router password. In addition one can set up a mydlink account to remotely monitor and manage one's network as well as providing remote access to files on one's computer.
Having dealt with all these issues, the Features dropdown menu enables one to set up firewall, port forwarding, website filtering etc. I particularly like the QoS Engine where a "card" for an attached device can be dragged and dropped into one of the boxes for Highest, High and Medium priorities. At any stage in the proceedings, one could access Help. This, unfortunately, is not context-sensitive so one has to look for the item which is relevant at that particular time.
With its four gigabit Ethernet ports and operating concurrently at both 2.4 and 5GHz giving a theoretical Wi-Fi throughput of up to 1900Mbps it can handle a massive amount of data and it is claimed that the high power and beam-forming technology gives greater coverage. However, even though a great many laptops do not yet support the 5GHz operation of 802.11ac, and the higher data rates it offers, it ensures that the 880L offers a reasonable degree of future proofing.
In practice, I found that it worked satisfactorily with my laptop at 2.4GHz and, with an external dongle, at 5GHz even though I was unable to measure the speeds.
Overall, this is a high-performance gigabit router with good wireless performance and enough capacity and QoS to meet anyone's media streaming needs. It offers a reasonable degree of future-proofing so, at about £130 on Amazon, it merits serious consideration.