Pure or Sanstrom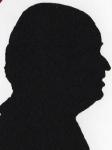 Review controls
Pure have long been a top name in DAB radios, others have followed and here is an offering from Dixons own label brand Sanstrom as well as the latest offering from Pure. So is the technology any different in the branded product to that on offer from the own label offering?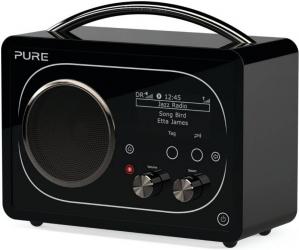 click image to enlarge
Pure Evoke F4
The Pure Evoke F4 DAB/FM radio measures 21x9.5x16cm excluding the semi circular handle that adds 3.5cm to the last figure the height. Mine was black. The handle acts as a snooze setting. It can be either mains or battery powered, the latter by fitting an F1 ChargePAK. The DC lead is 1.5metres long ending in a mid sized power brick.
There are two knobs Volume and Select with seven touch buttons all below the 6.7x3.5cm six line white on black display. When in low power standby this shows day and date on one line and time across three lines of the display.
The 7cm circular speaker has a chromed grill. The back of the unit has a seven piece rod aerial that extends 70cm. Beside this is the door where you would insert the ChargePAK that will be charged in situ when power is connected. Below this a line of five connections. A USB port which initially will hold the Bluetooth dongle. Optional Stereo Speaker socket. Headphone Socket, Auxiliary Socket and DC input.
On applying power extend the aerial and Autotune will take place on the DAB band my unit found 63 stations. There is also an FM band and of course you have numerous Presets for both FM and DAB radio.
However that is just the start as you can use it as streaming device with connections via Wi-Fi or Bluetooth. This of course will give you access to thousands of Internet Radio stations. When you connect to Pure Connect you get instructions about further connections and Pure Connect and Pure Tag to allow you tag whatever you are listening to.
Not content with all that is available when you are available you can record to a USB stick for replaying at a time to suit you. You also of course have the ability to wake up or go to sleep to music or radio, you also have separate Bass and Tone controls.
If you have limited space this is a brilliant way to get radio both FM and DAB, Internet Radio, be able to stream from your PC or 'i' device and schedule recording for when you are unavailable to listen.
It also works with Jongo to give multi room listening, more information on the second link.
The Pure Evoke F4 is available from the link below for £179 with free delivery.
http://www.amazon.co.uk/gp/product/B00D1RQVI4?ie=UTF8&tag=gadge0a-21&linkCode=as2&camp=1634
http://www.pure.com/product/evoke-f4-with-bluetooth/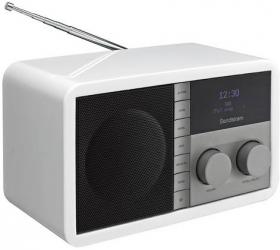 click image to enlarge
Sandstrom DAB Clock Radio
It is 21x12x12cm mine was white. The left side of the face is a black grill behind which is a 7cm speaker. From top to bottom to the right of this are seven well marked buttons. To the right of this is a 4x2.5cm three line display white on black. When off you have a hour and minute display over two lines with the third showing the date, this is quite a dim setting by default but even this could be quite bright in a darkened room at night. Below this are two knobs Volume and Snooze/Select.
On the back there is a six piece rod aerial extending to 58cm. Along the area below this a line of four controls, Headphones, Auxiliary, DC input the mains lead is 1.3metres long, and a USB port for upgrade purposes.
On first power on extend the aerial and Autotune takes place and finds 63 stations.
There are presets, it has alarm and sleep modes.
The sound quality is reasonable.
The Sandstrom DAB Clock Radio is available from Dixons and Currys or from the link below for £59.99.
http://www.currys.co.uk/gbuk/audio/radios/radios/sandstrom-s8dab12-dab-clock-radio-white-12231251-pdt.html
Conclusion
So while they both have DAB and FM there the compasion ends so it entirely up to you if you want or need the extra features then the Pure offering is certainly the one to go for. Having said that the Sandstrom offering is a perfectly respectable DAB/FM unit.
The price differential is of course fairly substantial but if you scour the market I think you will find only a handful of units that can record to USB stick and some of those can only do live recordings so if that is a feature you want or need then it's the Pure offering and of course you get all the other extras.