TDK Wireless Weatherproof Speaker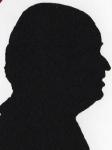 Review controls
At a recent TDK event I was shown four new small sets of speakers, all were in a single case. I was subsequently sent one to review, it can run on mains or internal battery and be a wired or Bluetooth connection.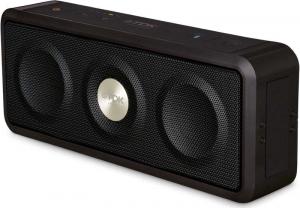 click image to enlarge
While this was designed as a Bluetooth unit it of course has the ability to accept 'Aux' input from any 3.5mm device. Most will use an 'i' device or MP3 player but as I recently found the lack of volume in some DVD and Blu-ray films mean volume levels from your TV often go only so far and to hear quiet dialog needs more.
It is 24x9.5x5cm and weights 1160grams. There are six touch buttons on the top of it, three connections on the right side as well as an on/off switch these are behind a rubberised fitting so I would describe it as shower proof.
It is capable of standing on its own but a small flap that runs the length of the unit raises the front by .5cm to tilt it slightly up.
I got close to five hours between charges when using it in Bluetooth mode. Using it in 'Aux' mode with whatever connection via a 3.5mm lead the time between charges went up to seven and a half hours between charging.
However there is a third method of use when the 1.8metre power lead is attached, even when the on/off slider is set to off you can use the speaker to output from anything once you have pressed the on button on top of the unit.
Having recently reviewed a Blu-ray player that came with 2.1 speakers which gave a huge ramp to volume output over that obtainable from Blu-ray via HDMI and standard TV sound I tried this speaker with various things like a TV and films that you often have to guess at part of the dialog as increasing the TV volume does not increase the volume enough, I found that I could set the TDK at maximum and then reduce the TV sound to about 25% of maximum and I could still hear the quiet dialog without having to strain my ears at all.
Two of the eight sides of User Guide are in English and while the buttons on top of the unit are self explanatory you may need to refer to the User Guide to pair to Bluetooth or to change use from Bluetooth to Auxiliary.
If your smart device also has a phone you can answer and take a call using the speaker rather than the smart phone, the unit has a built in microphone.
Under the side flap where you connect to the Auxiliary you also have a USB port and this allows you to charge other devices from the TDK speaker, it will not reduce the available battery as it only charges things like your smart phone when you are connected to mains power. It would have been nice to have been able to get a charge when in battery mode as an emergency charge even though it would reduce your Bluetooth or 'Aux' time.
I liked the unit it has two 3watt speakers and a 9watt sub woofer. I found it interesting to have bass frequencies for TV tunes you know well but have never previously realised that they had any noticeable bass levels.
There are two 1.5inch full range drivers, one 2.5inch subwoofer and two 2.5inch passive radiators to produce the overall sound.
The TDK Weathproof Portable Bluetooth Speaker is available from the link below for £189.99 with free delivery. Both the User Guide and the box as well as the TDK site call it the A33.
http://www.amazon.co.uk/gp/product/B00A67SH7U?ie=UTF8&tag=gadge0a-21&linkCode=as2&camp=1634
http://www.tdkperformance.com/en-us/Home-Audio/Boomboxes/Wireless-Weatherproof-Speaker/