Mobile Wi-Fi from Three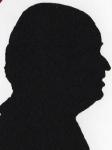 This – sometimes called Mi-Fi - allows you to create a wireless network with up to five devices all using the same mobile signal so if your broadband dies or maybe you live in an area where dial up is your only solution providing you have mobile this could be the answer.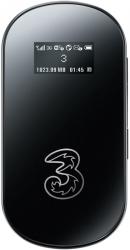 click image to enlarge
If you run a small business what do you do in a power cut, unless you have a standard BT type phone that will be down, Broadband will be down as your modem requires power, unless you keep your notebook charged you will not even have that. So what do you do, sweep the floor – you certainly can't Hoover it – as you have no power.
This then can keep you going for the - hopefully short - time without power providing you have charge in your notebook or Smartphone.
So this little black box 9.5x4.5x1.5cm that weights 80grams can give you a Network and Internet access in the office, at home or anywhere where there is no conventional phone line to give you any Broadband access.
I did some tests during my review period and I was downloading consistently at 72mbps, okay its not Broadband speed but it works and for anyone where tomorrow will not do then it is possible to keep things going.
There are two buttons on the right side on/off and above this your units key which you need to input – once only – into any device (or devices) that you want to link into your ad hoc network. While switched on the green LED on the on/off button remains on.
There is a small (up to three line) display 1.2x2.4cm and this will blank after a period of inactivity but still be ready to come back to life when data needs to be moved.
The only other connection is a micro USB socket on the bottom, a micro USB to USB lead supplied to charge the unit.
While I have called it Mi-Fi the patented name as on the rear of the unit is Huawei in fact it is a Huawei E586.
I can think of another place – or lots of places – where there is no Broadband or with very poor Broadband because of distance from the exchange, these can still have decent mobile connections so this could be a more permanent solution.
I see that the limit is 15GB a month for the price stated which is quite generous. My own Broadband package allowance is 10GB and that I normally fall quite easily inside at around 8GB of usage. I am working most days – far more than 5 days a week – with my computers. Yes I am not equivalent to several people running a business but it gives an idea of usage. I do quite a bit of web browsing and this includes doing my share of downloads.
This is a natty gadget that can connect up to five devices giving an ad hoc network so not only can you contact the outside world but one floor down etc.
The link below gives full details of the monthly allowance of 15GB for £18.99 other prices and deals are available. There is no upfront cost on a 24 month contract. So you know exactly what your outlay is within the limit.