Freeplay rechargeable DAB and FM alternator radio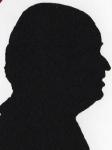 Review controls
This is the last of the items I saw at Marks & Spencer's Christmas in July event. This unlike some of the previous items I have reviewed has a real purpose. With all the talk of black outs a radio driven by a alternator certainly has a place.
Buy Now!
Devo Wind-up DAB/FM Radio
£89.50 from Marks and Spencer
including free delivery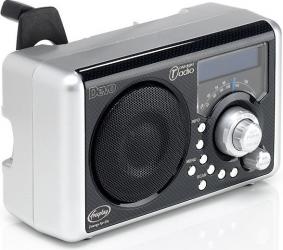 click image to enlarge
Slightly blocky in shape and unusual in layout for a DAB/FM radio and add the hand crank on the rear it is unusual. It is 20x12x8cm and weights1060grams. Remember the extra weight of the built in Ni-MH battery and the alternator.
The face has a single 8cm round speaker housing, eight silvered well labelled buttons, a grey volume knob and a double tuning knob the outer one for FM and the inner one for DAB. Above this is the older style semi circular band to tune on the FM band and above this a 6x1.5cm two line display for DAB.
The right side has an FM/DAB slider earbud socket for those who listen in stereo and the DC input. The rear has line out sockets and the alternator winder as well as a green charging button that stays on when you are on mains power, finally a seven section 55cm DAB aerial that extends from the top of the back.
So really this is two radios in one with the switch on the right side deciding which you are using. The battery life between charging differential is stated as 600%, 6Hours on DAB and 36Hours on FM when used continuously. I found – surprisingly – that the 36 hour claim was very wrong but not under but over way over the figures given. In my tests I got 51 hours. On DAB I got just over 8 hours on both my tests.
One drawback of this system is that the five available presets are only available on DAB surely you really need presets on FM even with the manual tune on FM it is 1.75 rotations of the wheel to get from one end of the band to the other and of course you need to remember the frequency of your favourite FM stations.
The other method of charging is by cranking the handle this is stated to give 3-5 minutes on DAB and 60 minutes on FM. Here things were different again. First how fast are you cranking? I used one turn per second and this produced only a few minutes on FM. DAB was even less at just over two minutes, but as always the review period was so short and needing to test the claimed 20 hours full charge claim and then to get to the full discharge again another 50 hours meant I had only limited time to test these claims. The claim is 36 hours with continuous use.
On DAB the continuous play time was a tad over 8 hours while their claim is 6 hours, not so spectacular as with FM but of course the two line display (white letters on blue background) is on all the time and does not seem even to dim so that would be at least partially to cause the more than six fold differential I got.
Scanning for Digital stations with the rod aerial extended was quite quick and it found 54 stations which is about the average for my area.
The crank handle needs to be just over the edge of what ever you are winding on as it would otherwise catch whatever you are resting it on.
It is rare for the claims on performance to be incorrect by such a huge amount. I am sure we are all used to claims that are over estimated but not under estimated and certainly not by the huge amounts I encountered.
At £89.50 this is not a cheap DAB/FM radio however the battery life is excellent and if the alternator is more than a gimmick then this small neat unit maybe a good buy.
The Devo wind-up DAB radio is available at larger Marks & Spencer branches and on-line for £89.50 :