Parrot Speakers and Sony Personal Field Speakers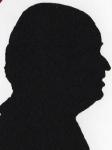 The first some speakers that can work wired or Bluetooth these are from Parrot. The second a headset from Sony that looks unlike any normal headsets I know.
Parrot DS1120 Speakers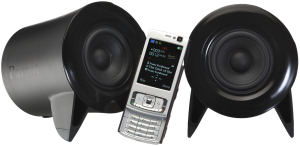 They are a pair of cone shaped speakers that need power but not necessarily any connection as they can operate by Bluetooth. However they can be connected conventionally.
They are 15cm long, 13cm across and stand 16cm high. Each has it's own power supply and lead so they do not even need to be in the same room. The signal is transmitted from one to the other so if setup in a stereo configuration that is what you hear. Each speaker weights around 1100grams.
In theory any notebook equipped with Bluetooth should be able to pair with the speakers and thus send audio to the speakers. However I found that the CD was required this installs some audio software that allows you to adjust sound, balance and other settings. I also needed to upgrade the Bluetooth software (also supplied). Should you not have Bluetooth a Parrot Bluetooth dongle is supplied looking just like a USB pen/stick drive.
Each speaker has three controls one to increase the volume, one to decrease the volume and the third to perform the initial pairing.
I found that if you have completed the pairing and then wanted to use an MP3 player via lead (provided) that you needed to remove the power from the speakers and wait at least 30 seconds before repowering.
Each speaker can deliver 15 watts of power and has a frequency range of 100Hz-18kHz. The lights are blue when working in tandem, flashing red when the other speaker has no power or is not in range. You can also see purple during initial startup.
The thin manual in next to useless (five pages in English) but the text is so small you will need very good eyesight to read it at all.
Doing my Internet searches could not find the Parrot DS1120 Bluetooth speakers. I found a few mentions on the web. £159 from the shop on the Parrot site, however with their shipping they are more expensive than Amazon that stock the DS1120 for £158.67 including shipping :
http://www.amazon.co.uk/Parrot-DS1120-Wireless-Stereo-System/dp/B0017VQW8A/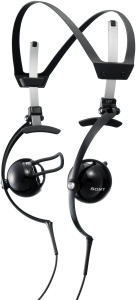 Sony Personal Field Speakers
These are rather unusual, very Sony with lots of extras like a cloth bag to keep them in. The top is like a headset of twenty or so years ago. The sides are sprung and adjustable. The secret is that there is a speaker each side and a small rounded metal clip that just enters the ear, there are small foam sleeves for these.
You have to wear them to understand and after a minute or two you appreciate the sound quality. There is a basic 90cm lead ending in gold plated 3.5mm jack. However there is another 3metre lead that connects into this again ending in gold plated 3.5mm jack. The box also contains a 3.5mm to ¼ inch jack for those having the other connector.
Just like a couple of other recent Sony items I do not expect you will find them available from many retailers yet, the box I got was all in Japanese and while there was an A4 sheet in English in side it was in even smaller print than the that of the Parrot item above. They are stocked in the UK by Amazon, priced at £248.38 including shipping, and I have no doubt they will have readable instructions.
Both these products give a very pleasant sound. In fact I used a lot of the same audio files during both tests and I was happy with both. The first gives freedom by using Bluetooth the second gives a headset with musician quality sound, it looks strange but it works well.
The Sony PFR-V1 is available from Amazon at a price of £195.45 on the following link :
http://www.amazon.co.uk/Sony-PFR-V1-Open-air-speaker-headphones/dp/B00165R91G