Bush DAB CD Clock Radio CR06CDWHT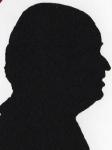 Review controls
This is a DAB/FM stereo radio, an alarm clock and it also has a CD player. It has a creamy white rubberised material covering the front and top.
Buy Now
Bush DAB CD Clock Radio
£59.99 from Argos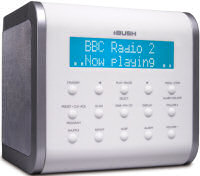 Certainly not a tiny unit and perhaps not the easiest to move around. It is mains operated and has a wire aerial that in some cases I found was not really that great.
It is 19cm deep, 15.5cm wide and 15cm tall, while it is not that heavy there are no hand holds so you need to hold it in the palm of your hand, still it's not designed to be moved. I assume as there is no remote control that it is designed to be within arms length so you can turn off the alarm so I assume the bedside table.
I must admit that I am not a huge rubber fan (nothing kinky) I do not like the smell of rubber and having this unit on my bedside table would probably make me reach, still I suppose the smell would lessen with age.
There is a silver/grey material that goes round the sides and the semi circular back and if I say silver/grey trim around the edges that covers the looks. The rear has the hard wired mains lead and the seventy five centimetre of wire aerial. There is also a master power switch and external speakers sockets. The right side has an earbud socket. Everything else is controlled from the front of the unit.
There are three rows of five push buttons all covered in the same cream rubberised material. Above this is a 10x2.5cm two line display white on blue. On the front top edge is an almost invisible snooze button as it has written snooze in the same cream.
I found that there seemed no logical poisoning of the buttons, you push one for a task of some kind and then need to push another to confirm an action and this may be two rows away. Yes the unit is new but I did use it for at least two weeks as both a DAB/FM radio and CD player but despite reading the 36 page manual I can still not work out any reasoning for the placing of the buttons.
Before first switch on ensure the wire aerial is extended and then switch on and the unit will autotune. I am quite happy that the volume level seems low as the first station found is the one it starts playing and I am not a fan of current pop music.
The speakers do give a quite acceptable sound (enough to fill a reasonable sized room) once you have set presets it will always start with the last station you listened to however for some reason this is at the very low volume level and you need to manually increase it every time you switch on. However should you use Standby the volume level is maintained. As it saves presets through a switch off why can it not save volume settings?
For DAB stations it displays the station on the top line with a range of items on the second line that can include Dynamic Label Segment/Program Type/Multiplex Name/Time/Channel and Frequency/Signal Information and Signal Error Rate all selectable from the Display Button. On FM the top line shows the frequency of the station with the bottom line blank. For playing CD's the choice is track number of the CD on the top line with the bottom line blank or by pressing the display button you can have the current time taking both lines with CD on the left side of the top line.
AS far as the CD goes it can play in order, randomly or you can repeat a single track or the whole CD. You can set up to two alarms and you can choose to be woken by CD, radio or buzzer. There is a sleep timer with a variable sleep time. This could also be used in alarm mode to tell you if what you are cooking is ready.
Forgetting my rubber aversion I was that keen on this unit mainly because despite using it for sometime I was always searching for the required buttons to do whatever and the fact that after a switch off the volume level always starts at such a low level. Trying as always to be fair I suppose the wipe clean effect of the rubber would be good if used in a kitchen.
Doing my Internet searches found the Bush DABCR06CD at £59.99 from Argos
http://www.argos.co.uk/static/Product/partNumber/5133006/Trail/searchtext>BUSH+DAB.htm
http://www.bushdigital.co.uk/BushDigital.co.uk/html/default.htm