Two Different Headsets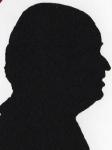 The first from Jabra a very light Bluetooth one mainly for those who spend their life on a mobile. The second from Logitech for those who are shackled to a notebook.
Jabra BT125 Bluetooth Headset
This is a Bluetooth headset that - as far as I can see - links with any Bluetooth phone and is so light that you really will not know you are wearing it.
It fits into the ear but not deeply and with the swivel fitting that goes over the ear it can fit in either ear. There is just one control on the unit a switch on the outer side to start and finish a call to do this press it briefly. This same button can also switch the unit on (press for one second) and off when pressed for five seconds.
There is a manual provided on a mini CD but the five point instruction leaflet called a Quick Start Guide really should be enough for most users. This is a Bluetooth 2 device but it is backward compatible to earlier versions.
Pairing with your phone (I tried three) is simple turn off the headset, switch it on as described in the 'Guide' and set your phone to discover the headset, when it has enter the supplied pin code and that's it.
There is a mains lead style mini USB lead for easy charging. The stated battery life between charges is eight hours in use, and, 170 hours in standby.
My scales are not accurate enough to say how little it weights but my guess would be around 15grams, all my calls were as clear as those made and received using the various mobile phones and of course in a noisy environment even clearer.
Doing my Internet searches found the Jabra BT125 at a best price of £12.36 from the first link below.
http://www.amazon.co.uk/Jabra-BT125-Bluetooth-Headset/dp/B000LIWVAI
Logitech Premium Notebook Headset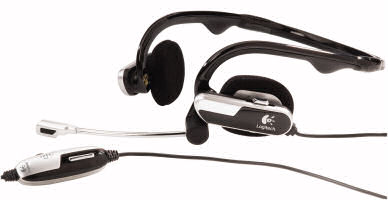 This is certainly not the headset for the occasional user, it's rather like putting your rubbish sacks in the back of the Bentley to go to the local dump, it would work but why would you do it?
This is called a Premium Headset - not just for the extra cost - but for the fact it comes with a case and connectors to allow both USB and analogue connections.
Unlike some basic headsets the earpieces are adjustable for a secure and comfortable fit something that is very important for those who wear a headset eight hours a day. The microphone not only rotates but is also noise cancelling, ideal for that busy office or for those who use their voice to dictate to the PC.
The headset can also fold securely to pack away in the case should you have to travel - as most executives do - remove the headset from the case and start work. It is also useful for 'play' as well as it can work perfectly with most MP3 players.
Apart from voice recognition, listening to music and of course the odd DVD it could be suitable for those demanding PC games. The 150cm lead should be enough for any normal movements.
Doing my Internet searches found the Logitech Premium Notebook Headset for a best price of £27.65 including delivery from the first link below.
http://www.amazon.co.uk/Logitech-980445-0914-Premium-Notebook-Headset/dp/B000GUA7K2
www.logitech.com/index.cfm/products/details/GB/EN,CRID=103,CONTENTID=12236