Archos 52 Platinum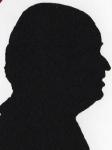 A large SmartPhone running Android 4.42, it looks like many recent offerings from a range of companies it has two SIM slots so those who get an allowance for a work phone can save the problem of having to carry two phones around.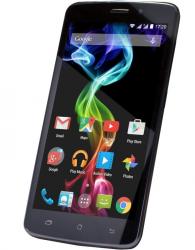 click image to enlarge
The Archos 52 'Platinum' measures 15x7.5x.7cm and weights 156grams. The viewable screen is 11.6x6.6cm which gives the notional diagonal imperial screen measurement of 5.25inches. The screen resolution is 1280x720.
It has a Quad Core Processor with 8GB of memory.
As with almost all recent phones you have a front camera for those 'selfie' moments and a rear camera that has an LED flash and it takes 8MP images.
The case is quite sleek a thin chrome band between the face and the back, the back is matt black I just wish the front was too as without any effort it gets covered with fingermarks and as it's shiny they show even in dull light.
The top has an ear bud socket, the right side has a volume rocker and below this an on/off button. The base has a micro USB for charging, I had no joy using it with an OTG device. At the very top of the rear is the camera lens with the LED flash on its right side but still well left of the centre.
The version of Android is 4.4.2 'Kit-Kat' which is the penultimate release.
For people - like me - who turn their phone off it boots in 22seconds and switches off in 5seconds.
Apart from the standard Google Play Apps it also has an Archos suite of Media Apps.
I notice among the accessories on the Archos site is a stylus and this may be an investment to try to remove some of the finger presses that make the screen look messy.
I was pleased with the voice recognition and it correctly took me to relevant pages when on Wi-Fi or out and about even in noisy environments, all this using 'Hello Google' from the home screen, another way to cut down on fingermarks. The female voice –sadly American- was clear when offering instructions like directions.
Up to 27 lines of clear easy to read text are shown on the screen at any one time and while the screen is clean – a damp tissue before a dry one was the only way I found to clean it – they are sharp and easy to read black on white text.
Video was also crisp and sharp and the volume in a quiet room adequate through the rear facing speaker that is low bottom right. For anything in a noisy arena then use earbuds. A set is provided in the box together with a micro USB to USB cable.
Reception out and about is going to depend on your service provider - this is 3G phone - but on Wi-Fi it was fine and I was able to download Apps and other items without problems or delays.
Looking at the Archos site this appears to be their second largest offering at 5.25 inches, I see they do a 5.9inch but this has yet to come my way.
The Archos 52 Platinum is available from the first link below for £144.99.
http://www.amazon.co.uk/gp/product/B00UAN4RA6?ie=UTF8&tag=gadge0a-21&linkCode=as2&camp=1634
http://www.archos.com/gb/products/smartphones/platinum/archos_52platinum/index.html