ION LP 2 CD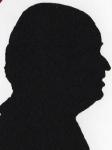 Review controls
If you just want to transfer LP content to a PC and then create MP3 files then he ION USB Record deck reviewed in December will do what you want. However should you want something that does the lot without the aid of a PC and lets you end up with audio CD's then this could be for you.
Buy Now!
ION LP 2 CD
£349.95 from Firebox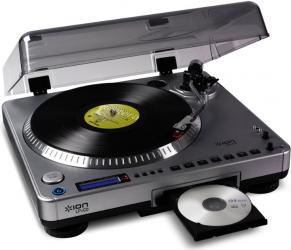 click image to enlarge
This is quite a substantial unit and has a far more solid feel than the previously reviewed USB version (you can read our review of the ION USB record deck here). It is 44x42x16cm with the mains lead inserted in the rear. It also has a pair of Line Out and a pair of Line In sockets and a USB socket on the rear. The Line In to allow you to input signals from other devices such as a Mini Disc or Cassette deck. The Line Out so it can be used as a standard record deck outputting to say an audio system and the USB lead so it could be used in the same way as the ION USB Record deck that would be required for poor quality LP's.
On the front edge of the unit is the CD recorder/player unit. On the top front edge are the controls. A total of 19 buttons and controls but all are well labelled and also well described in the 14 pages of the multi language guide that are in English.
Power the unit on, place an LP (in good condition) on the record deck, press the record button, place the stylus at the point you want to start recording and then press play. It can automatically detect track ends so your next action will be required when that side is all recorded to the internal flash memory. You can then press stop and record the other side of the LP or indeed another LP in total the flash memory can store just over 79 minutes of music. Once you have all you want recorded to the flash memory press the burn CD button you are then asked to insert a blank CD-R and around 7 minutes later you have a CD of what you have asked it record. To me it sounded excellent, I also asked a musician friend of mine to listen and again he was perfectly happy. So providing you have good clean LP's (no cracks or pops) then this method works fine and of course no PC is required, so ideal for anyone even if they do not own a PC.
Should an LP require some TLC then you would need to transfer the files to a PC and use some of the supplied software to help you remove the hiss and crackles but with the interface provided you would then only be able to make MP3 files.
While it would have been nice to have editing capabilities then this whole device would have to become more like a computer itself and of course it would be a lot more expensive. There is among the controls a two 16 character line display 6.5x1.5cm that can shown mode, track, minutes and seconds recording time remaining and the input level.
There is also a menu button and this works sequentially the only setting I changed was to turn off the auto track separation this can sometimes get confused with live recordings when applause only separates tracks. I also noticed occasionally that very quiet passages sometimes caused a spurious new track. This setting does need to be set before each recording as the default is to use the automatic separation.
When my unit arrived the belt drive was not connected nor was the weight on the end of the tone arm. However if you follow the setup guide it tells you in words and illustrations how to complete both, the latter may need a little work before playing an LP without a stick or slide, however once correct all should be fine.
If you wish to monitor what is being recorded you can attach earbuds/headphones or even connect a pair of external speakers via a 3.5mm jack. There is no reason why you cannot play LP's or CD's in this way also.
Some LP's do not have timings for tracks and once you have recorded to the internal flash memory the only thing you can do is delete and or reorder. Say you have eight tracks recorded and you wish track six to become track one that is simple to do but of course by doing this you need to think where the other tracks will be moved to. Far better to work out timings and playing order in advance and record in that order. If you are say just a couple of minutes over you could press the play/pause button to stop the timer but not the LP cutting say a solo out of a track so that say two LP's will fit on a single CD.
If you have good quality LP's then this method should mean that over 70 minutes (up to 79 minutes) can be recorded to a CD in that time plus the 7 minutes, brilliant as no PC is required.
The ION LP 2 CD is available from the link below at £349.95, not cheap but it is an all in one solution.