T-Mobile Vivacity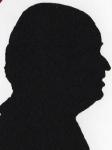 Review controls
A phone from a service provider, not I think unique but certainly most seem to come from third party companies, often a phone – for a period anyway – are only available from a single provider, here the Vivacity from T-Mobile.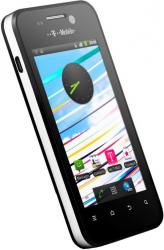 click image to enlarge
The T-Mobile Vivacity measures 11.2x5.6x.8cm and weights 120grams. Front and back are black with the edges all in silver grey. The viewable screen is 7.6x4.6cm that is 3½ inches diagonal for those who still think imperial. All the controls are touchscreen with the exception of the on/off on top of it and volume up/down on the right side of the unit.
There is a fold out Quick Start Guide that covers most of the basics for anything else a mini CD is provided with a User Guide. You are instructed to insert your SIM card and battery, unfortunately you need to refer to page 9 of the full manual to find out how to remove the back of the phone to allow you to insert the SIM, this surely should have been in the Quick Start Guide. While the back is off it is also a good time to insert a Micro SD card for extra storage.
As with the majority of modern phones this is an Android offering in this case version 2.3.5 provided by T-Mobile.
Charging is by a provided USB lead which connects on the left side of the unit, it can of course be charged while on.
You have two cameras the front one (lower MP) on the front while the higher power one is on the back and it has a flash.
Once past the first start up the Home screen will display a top line of 'Status and Notifications' with various icons. Below this a large empty space where you can have either the default wallpaper (or one of your choice) with just an Analogue clock, near the bottom of the screen a row of four icons (shortcuts) and along the bottom three further icons for 'Phone', 'Main Menu' and 'Web'. Just below the screen are the other controls four touch buttons. These will show up white when touched very useful in dark areas when you are not that familiar.
The default setting locks the screen after a short period, if you use a PIN then you will need to re-enter it to carry on, if not just sliding the lock icon across the screen will get you back in once you have pressed the on/off button.
To use all the units capabilities you will need a SIM with Data/E-Mail included this can either be on a contract basis or PAYG. However around a wireless network you can use your phone like a computer once logged on.
For those you need to type more than the odd sentence Bluetooth is useful enabling you to use an external keyboard.
Being Android you have access to all Google applications which mean with the right SIM you can keep working anywhere that has a mobile signal of course working using a wireless network will probably be quicker if a lot of data needs to be transferred.
I used this as my main phone for several weeks and after only a read of the main manual was up to speed with most of the things it does, however all phones are a little different in the way they implement things in use.
Normally I say here that the price of phones vary according to which service provider you use and the type of contract/PAYG. The latter is still true here but of course this is a T-Mobile device. Looking at their website the Vivacity is available Free on a £10.21 a month contract (24 month contract). On PAYG you can buy for £89.99 with £10 top up.
http://www.t-mobile.co.uk/shop/pay-monthly/t-mobile-vivacity-black/mobile-tariffs/
http://www.t-mobile.co.uk/shop/pay-as-you-go/t-mobile-vivacity-black-payg/voice-reward/extras/