An Android DECT Phone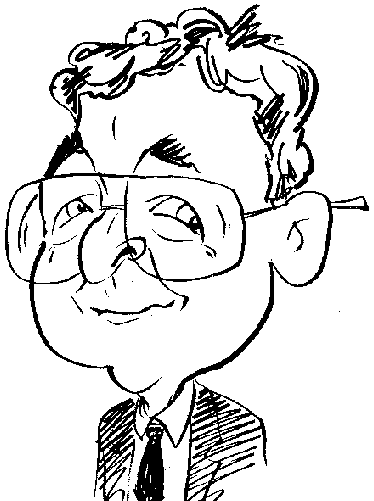 Review controls
The Android influence continues to grow as Google's operating system appears on DECT handsets.
Buy Now!
Binatone iDect iHome
£99.99 from Argon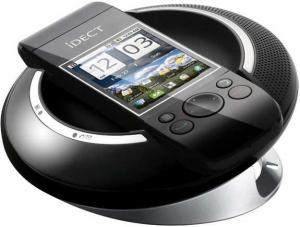 click image to enlarge
In the past I have looked at, and used, different DECT phones either as a single unit or in various combinations. All these handsets, from manufacturers such as BT, Panasonic and Doro, adopted an upright position when mounted on the accompanying docking station. This next DECT phone, however, prefers a more restful inclination as it lays flat in a sideways position on its docking station. The change of orientation is not the only innovative feature that marks out the Binatone iHomePhone 2 as a DECT phone with a difference.
One striking difference is the black and metallic silver circular docking station that could be mistaken for an ash tray in some establishments. The docking station, which sits at an angle to help display the handset to the best advantage, not only provides the usual charging and answer-phone facilities for the DECT handset but has built-in stereo speakers for delivering music and Internet radio listening. There are also LED lights showing charging and talk/message feedback.
As mentioned the DECT handset reclines across the docking station as its internal Li-ion Polymer battery is kept fully charged. The handset, predominately black in colour, has dimensions of 156 x 55 x 20mm. Dominating the front of the handset is a 2.8-inch resistive touch screen with a resolution of 320 x 240 pixels. A built-in tilt / orientation sensor detects whether the handset is being held in portrait or landscape mode and adjusts the screen accordingly within a couple of seconds.
Positioned beneath the screen are various control options arranged around a function compass wheel. The four cardinal points of the wheel allow you to return to the home screen, launch a search function and increase or decrease volume level. The surrounding buttons provide menu, phone on, phone off and back functions. Arranged down the left side of the handset are the lock key, a concealed earphone 3.5mm jack socket and a microSD card slot. The right side contains a micro USB port plus a slot for the supplied small stylus pen. When placing the handset on the docking station you do need to ensure the contact points connect with the charge points. A red LED light will glow to indicate that the contact has been made.
While a 2.8-inch touch screen might seem like an indulgence for a DECT phone, this particular model comes with functionality that cries out for such a screen. The Binatone iHomePhone 2 comes with Android 2.1 and Wi-Fi so that you can access features that include web browsing, email and a customisable multi-view Home screen. While capable of delivering reasonable images, the screen does suffer from a limited viewing angle.
As part of the initial set up of this DECT phone, a welcome wizard will lead you through the process of selecting the language, date & time settings, sound & display settings plus connecting the iPhone to a wireless network. You can then select from a choice of wallpaper or use you own photos stored on a microSD card. While the touch screen has been calibrated at the factory, a procedure is provided if you need to make adjustments. Both before and after making adjustments I tended to struggle when typing (hunt & peck method) using the on-screen keypad – theDelkey was a frequent target for a tap.
By default your initial Internet experience will take you to the Google website. You can set up your home page by entering the relevant details in the Settings / Set Home Page menu option. However until you open a new window, the Google option will be your first port of call. While it is possible to view web pages on this Binatone device, it is not an experience you will enjoy unless you like zooming in and scrolling around pages.
Generally you should be able to set up a link to an email account using the automatic procedure of supplying your username and password. I had no trouble with this process but others might not be so fortunate. Included in the package are detailed settings for creating an email account with various providers. Different settings are given for Gmail, Yahoo and Hotmail for both IMAP and Pop3 types when carrying out a manual set up.
I had less success when using the TuneIn Radio feature for listening to Internet radio stations. While it was possible to select from a choice of stations categorised by name, location and language plus genre, there was always break up in the delivery of the audio stream. Reception was far better when using my main system with the same Broadband connection.
When playing your own favourite music or viewing photos, these items need to be stored on a microSD card. You can create playlists, use a shuffle option and set a song as a ringtone or background music. Photos can be viewed as thumbnails, individually with a zoom option or as a slideshow with or without background music. Options are available to send photos by email, using one as wallpaper or link an image to somebody in your contacts list.
The more traditional features associated with a DECT phone are well covered by this Binatone model. You have the full featured answer machine with 15 minutes recording time found in the docking station. The unit's phonebook allows you to create details for up to 300 contacts. There is support for a speakerphone, call waiting and CID (Call Identity Delivery) plus a Call Log covering dialled, missed and received calls.
While an innovative and stylish device, I am not convinced that some of its features will be made use of by many users. As this is a phone for use within the home or near vicinity and will be connected to your home network, I would tend to use my main computer for email downloading and any Internet connectivity rather than use the iPhone for this purpose. I suspect many others would behave in the same way. The Binatone iHomePhone 2 has been priced at £99.99.
http://www.binatonetelecom.com/products/androidproducts/ihomephone-2.html