Jabra HALO BT650s stereo bluetooth headset

Published 8 Sep 2009 Author
petew
Jabra have made their name making quality Bluetooth headsets for the mobile phone market. That market has moved on and so has Jabra, here with their latest Jabra Halo stereo headset.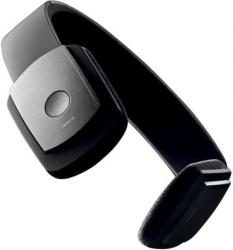 click image to enlarge
Very few mobile phones are in fact simply mobile phones these days. Technological progress has lead to that phone in your pocket shrinking in size while vastly expanding functionality. High on the list of roles is that of media player - both for audio and more recently for video.
The traditional Bluetooth headset, while suitable for making a phone call, is obviously not up to the task of stereo playback of your favourite music. Enter the Jabra Halo - a stereo headset for your phone.
The headset is of the headband style fitting over the crown of the head. The design is slim, comfortable and lightweight, weighing around 80g.
Accompanying the headset you are also provided with a charger, quick start manual, USB lead (for charging from any USB source), 3.5mm adaptor lead and a protective carry case.
The charge time for the headset from the included charger is around 2 hours. A full charge will give you 8 hours of active use (phone calls or music playback) so should get you through the day. In standby the charge will last you around 13 days.
The Halo design is interesting in that the headband design folds on hinges allowing for compact storage. The hinge also acts as an on/off switch. Fold the headset and it's off - open it and it's on.
Stereo playback over Bluetooth is via the A2DP profile supported by most media playing phones these days. In my case I easily paired the Halo with my shiny new Sony Ericsson W995 phone. If you've yet to buy into the one-gadget-for-all situations pitch and have both a phone and Bluetooth compatible media player then the Halo will hapily pair with both simultaneously. In my case I manage to pair with both the W995 and my older k800i.
I did find though that if you have two devices attached and then disable the Bluetooth on on of them the headset got confused with audio playback becoming intermittent.
The headset was comfortable and sound quality for music playback is excellent. I did find it had a tendency to slip forward if I used it while doing house-work, slipping each time I leant forward. Although it never actually fell off I would have felt more secure with a tighter fit - I had visions of if falling into the washing up water!
When making calls the Halo claims to have Noise Blackout™ technology supported by dual microphones. I'm not entirely sure what this does but I can attest to the call quality - excellent. The caller is played back to both ears and I had no complaints from the other end about quality of reception.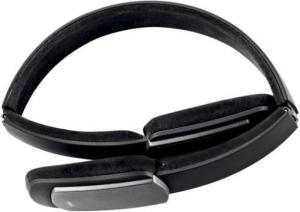 click image to enlarge
Controls
There are two controls on the Halo: a call answer button and a touch sensitive +/- combination. Both are on the right side earpiece. The call button is identified by a simple indentation so you know where to press. The +/- keys are used to both change the volume and move between tracks. There is no phyical clue to this pair being touch sensitive. While this leads to a sleek design I did find it difficult to locate - when you're wearing the headset you can't see the markings and there is no physical guidance. According to the manual you touch '+' to increase volume and '-' to decrease volume. Double-tapping either should move you back and forth between tracks. I have to say that I couldn't get this second function to work.
Wire use
If you're looking for a dual purpose headset that can be used for both Bluetooth calls and as a stereo headset for your phone then the Jabra Halo does have the option to connect wired to a standard 3.5mm jack socket. A micro-USB to 3.5mm jack cable is included with the product. Unfortunately using this option for reasons that escape me completely disables Bluetooth. An obvious use of such a facility would be to playback music from a non-Bluetooth device such as my iPod Touch and still receive calls.
Summary
The Jabra Halo is a very comfortable slim headset offering excellent audio performance for both stereo playback and for making calls. The design does have a couple of shortcomings most notably in my view being the touch sensitive controls. Pairing and other functions were however very straightforward. As a stereo headset for use with a single Bluetooth mobile phone/media player the results are however very good. If you're in the market for such a product do take a close look at the Halo.
The best price from Amazon is £80.44, including delivery so these are toward the upper end of the price range when compared, for example, with the Motorola S9.