Of Telegraph Poles and Phones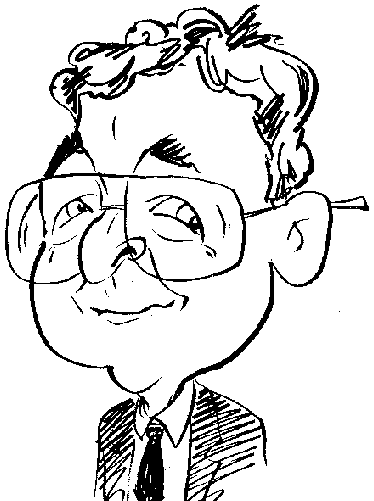 As my current main phone was suffering from a dodgy power connection, it was time to check out a replacement.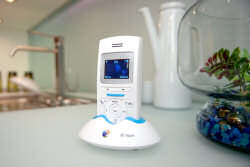 Generally I do not believe in co-incidence but sometimes circumstances force me to reconsider my position. Take, for instance, the combination of two recent events. On the very day that I had decided to review a new BT phone, who should turn up but a team of BT engineers. Their assigned task was to replace the telegraph pole situated outside my home. To me the original pole look fine but I was not consulted about the matter.
This removal required residents, myself included, to move their cars from parking space that had been pre-paid for on an annual basis. It also resulted in land-line telephonic communications being cut off for the immediate area. Needless to say BT did not give any advanced warning of this temporary disruption to normal services - presumably the company just expected nobody to notice.
Of course with no connected telephone line, the review process had to be put on hold which is why I am writing this introduction to this review. Hopefully when communications are restored, the delay will not cloud my judgement, whether consciously or sub-consciously, regarding the BT phone.
While waiting, let's take the opportunity to describe the appearance of the BT Aqua product. This phone belongs to the BT family of DECT phones that allow you (telegraph pole replacement permitting) greater freedom in the positioning and use of the handset. I have to say that the colour scheme of Apple white and blue is not to my taste, I would have preferred more subtle colouring.
The kit consists of a base station; handset; charger dock; two AAA rechargeable batteries; two main power leads; telephone line cord; wall mounting screws; plus a small User Guide. The base station, measuring 151 x 130 x 68mm (H x W x D), can either be used free-standing or wall-mounted. It can be positioned anywhere within reach of a mains power and telephone line socket. LED lights on the top indicate when power and the answer machine are turned on. There is also a slot for inserting a SIM card for copying contact details to the unit's phone book.
Following a short break, I was pleased to discover that my phone had been reconnected; I only hope my neighbours are as fortunate. As with the base station, the charger dock needs to be connected to a power source but can be located almost anywhere within the home. When not in use, the handset will sit on the dock and its internal batteries will be recharged giving approximately 10 hours of talk time and 100 hours on standby.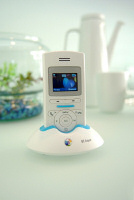 The handset adopts the slider style of unit which keeps the telephonic keypad concealed until needed. A compass style navigation wheel, selection buttons and a colour 3 x 2cm LCD decorate the front of the device. Mobile phone-like, the LCD screen displays icons and other relevant information.
As well as supporting a phone book storing details of up 250 contacts, the handset can hold a list of the last 30 answered or missed calls and the last 20 dialled calls. An icon will be displayed to indicate when you have missed calls and when the answer machine is turned on. An on-screen alert will advise when you have new messages. You can also use this phone to send SMS messages with standard charges to apply. Three-way conferencing is also possible but as yet I have not tested this facility.
Generally this phone performed well up to expectations. There are numerous settings which can be customised to suit individual needs. I do have one criticism regarding the positioning of the handset when seated in the charger dock. Rather than the upright stance used, a slightly backwards angled position would improve the visibility of the LCD display. The BT Aqua DECT phone has been priced at £59.99 for a single handset and £89.99 for a dual handset pack.