Nokia E50-2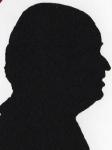 There are two versions of this phone the E50-1 with camera and the one I looked at the E50-2 without the camera.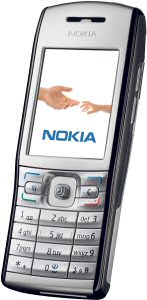 This is a small but solid neat phone that looks businesslike, not having a camera seems a little strange but some companies prefer it as then employees cannot photograph documents, I was amazed when I heard that but I am told it is true.
The dimensions are 11x4x1.5cm and it weights around 100grams. The 4x3cm screen is bright and easy to read. This is required as the top 1.5cm of the screen packs in 7 icons including a rather nice analogue clock and the date with six folders underneath, however they are all clearly readable.
So what does the Nokia E50 have to offer, the version I was looking at comes from T-Mobile and apart from all the standard things a phone does today - yes it does still make and receive phone calls - their Web'n'Walk service is installed.
There is a 98 page manual that is well laid out and covers everything that the unit can do. Briefly it covers Your Device, Calls and Voice Applications, Contacts, Calendar, Messages, Nokia Team Suite, Office Applications (Word, Excel and PDF files all work), Connectivity, Web, Camera (this section only applies to the E50-1) Media Applications, Settings, Tools, Device Management etc. If you haven't glazed over yet other people might like to take note of how to produce a manual.
As a phone I was more than happy, everywhere I made calls the sound quality was good and where the background noise was not excessive people were not even aware I was ringing from a mobile.
Web'n'Walk worked well, doing some timings, to change to a sub page of a site takes a tad over one second on my broadband connection. To do the same using Web'n'Walk on the Nokia E50 takes three seconds, this is full graphics, yes of course you need to scroll around the page but it's exactly the same page as seen on a PC.
One of the main problems with viewing the WWW on some PDA's or SmartPhones is that normally you are limited to a range of pages and sometimes this is textual only.
Email is another big thing and while 'Push' email is possible on this unit using Blackberry - I did set this up on another device the Nokia E61 (review to follow shortly) - however it is far from easy to do but once working emails arrive 6 seconds after they are sent.
Web email is easy to use (GMail Hotmail etc) and unless you spend a lot of time out and about far less problems. AOL, BT and Yahoo are also already setup so if you use any of those it's just a matter of inputting your details.
The E61 has a full QWERTY keyboard (two thumbs) but is PDA size whereas the Nokia E50 is a phone so you have to input messages via numeric keys but I managed it without any great difficulty and I am sure the average 'younger person' would be imputing text messages in seconds.
The unit has a built in MP3 player and also supports micro SD cards so the capacity of tracks, documents and spreadsheets etc is massive and only limited by card size. The phone has over 400 minutes talk time and over 200 hours on standby.
Doing my searches found this unit available from 'FREE' upwards according to contract. The first link below has a 3D view of the phone.
http://www.carphonewarehouse.com/commerce/servlet/gben-pd-ProductDisplay?S=40&PN=MONTHLY&filter_partModel=NOKE50
http://www.t-mobile.co.uk/Dispatcher?paymentPlanType=pmt&pmid=7324&nmid=phones_ews_overview&menuid=ctl_phones_details