Cables from Brando and Spray Clock from Prezzybox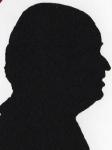 Have you ever wanted to use one mobile device to charge another? Have you wanted to transfer data by cable from a PC to a mobile device, in fact why not you use the same cable to charge and transfer data. Finally a clock in a Spray Paint can that shows on any surface.
Emergency Phone Charging Cable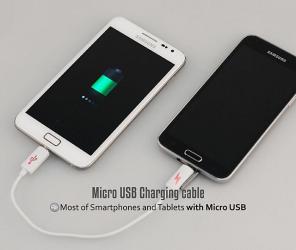 click image to enlarge
Anything that has a micro USB charge socket this cable can work with.
Its total length is 25cm including what look like two identical micro USB plugs, however one is marked with the standard USB symbol and the other with a lightning bolt. So plug the latter into your tablet or other such device that has power and plug the USB symbol end into your phone and you will have power to make that call.
A simple idea that can be easier to carry around than a secondary battery and certainly a lot lighter as it only weights 7grams.
The Emergency Phone Charging Cable is available from the link below for $15 (US)
http://shop.brando.com/Micro-USB-to-Micro-USB-Charging-cable_p11572c1615d002.html
King Kong Micro USB Cable
This is a slightly different cable in that the standard USB end is two in one plug, meaning that if you insert it one way it delivers power to the other end the micro USB one which you connect to your tablet or SmartPhone to deliver power, flip the larger cable over and it delivers data.
This cable is 1metre long and the larger USB end is still a standard size so is not requiring any extra space that some USB cables do so it should fit in any socket.
When you look at the end of a standard USB cable one side is solid and you match that to the open side on your USB socket. Here the solid bit – a little thinner – is in the centre so it fits either way. The cable itself is flat as with some MP3 cables to avoid knotting when rolled up.
This is another great idea from these clever people in Hong Kong. The King Kong Micro USB Cable is available for $14 (US) from the link below.
Brando has a standard P&P charge of $3 (US) however large your order.
http://shop.brando.com/REMAX-KingKong-Micro-USB-Cable_p11763c1615d002.html
Spray Paint Projection Clock from Prezzybox
This looks like a can of spray paint, press the nozzle on the top and a beam of light puts thetime onto any surface for the length of time you keep it pressed.
The can is 13cm tall and 6.5cm across at the base and 2.5cm across at the noozle.
It is powered by two 'AAA' batteries supplied and at the base of the back is a digital clock that shows the current time.
While this can be adjusted the instruction sheet shows how to do so why not insert the batteries at Noon or Midnight and then as this is a 12 hour clock the time will be correct.
You will need a Philips screwdriver to insert the batteries into their place and the can and then screwing up the small screw means little fingers cannot do any harm to themselves by playing with batteries.
In case I have not made it clear all that is sprayed is light so no damage to whatever it is pointed at. Anything from 10cm or more away gives a good clock display. I have shown it perfectly clearly on a ceiling or a wall several metres away in a darkened room.
The Spray Paint Projection Clock is available from the link below for £14.95