Headsets for good communications

Where voice quality is important, a headset has a key role to play with vendors such as Jabra and Logitech producing headsets with noise cancelling microphones which are much more effective in meeting user needs.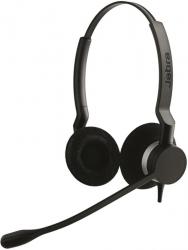 click image to enlarge
Although loudspeakers and webcam microphones are suitable for conference calls where there may be a number of people involved, they are not ideal for one-to-one Skype calls and inappropriate when using speech recognition software. Furthermore, while there are many cheap headsets on the market many do not incorporate noise cancellation and, because of cost constraints, they may not be very durable and be uncomfortable for wearing for long periods.
Noise cancellation is an important tool in elimination of extraneous noise which, with Skype, would prove a distraction while it could well have a detrimental effect on the accuracy of speech recognition as it would make it far more difficult for the software to be able work efficiently
Among the vast range of good quality headsets on the market, where performance and reliability are key features rather than style and fashion, are the USB stereo Jabra Biz2300 and the mono Logitech H570E both of which have noise cancelling microphones, inline volume control and microphone mute pushbtton, and roughly 2metre cables to provide the user with adequate freedom of movement.
Both the Jabra and the Logitech have headbands that can be adjusted for comfort while the whole headset can be arranged so that the microphone can be on either the LH or RH side of the mouth. Their booms can then be adjusted and bent so the microphone can be positioned close to the side of the mouth for best results. While the former has foam ear pads, the latter has leatherette.
There are differing schools of thought as to whether one should use mono or stereo headsets. With the mono, one can hear what is going on and keep abreast of what is happening in the office; while the latter cuts extraneous sounds and helps the user to concentrate.
While there are a lot of similarities, there are also major differences between these two headsets. As the Logitech H570E has been designed for general office use, the key factors are comfort and ease of use. In addition to the mono version that I tested, which is particularly suitable for those who want to keep an ear open to their surroundings, there is a stereo version for those who wish to block out a noisy background environment. The prices are respectively about £40 and £43 for the mono and stereo versions.
The Jabra BIZ3200 has been designed to withstand the rigours of the all day and every day usage likely to be experienced in a call centre. Hence, it has Kevlar-reinforced cord and is claimed that the boom-arm is "break-proof". The price of the BIZ3200, at around £100, reflects the challenges faced in producing a device that has to stand up to such usage and to have a frequency response that enable the realistic reproduction of human voices on optimised digital lines.
In much the same way that the choice of a keyboard is a matter of personal preference, the same applies with headsets. In both cases, comfort and "feel" must be taken into account as much as "data sheet" performance factors such as frequency response but underpinning all this is the experience and reputation of the vendors for producing quality and reliable products.