Powerstation's Power On The Move

As smartphones, tablets and other devices, upon which we are now totally reliant, get more powerful and have faster processors and more memory they impose a heavier battery demand. Mophie's Juice Pack Powerstation Duo external battery pack has enough capacity to provide a useful safety belt that can be used to increase the time before one needs to use a mains charger.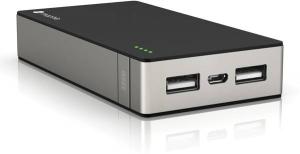 click image to enlarge
The Powerstation Duo is rectangular with slightly rounded corners and is just 110 x 58 x 20 mm in size. Its top and bottom faces are of a hard matt black material (which, unfortunately, gets badly smeared with fingerprints) and sides in stainless steel and feels very robust overall. Despite being a 6,000mAh battery pack it is relatively small and only weighing about 220g complete with the supplied 87cm USB cable and can be slipped easily into a laptop or other travel bag .
There are three USB connectors on one end -- the two full-sized outputs and a single micro-USB input for charging it. The state of charge is indicated by LEDs on the top face. Just press the push button on the side and, if fully charged, all four LEDs will glow for a few seconds. If only one glows, the charger is almost empty. To charge the Powerstation one uses the provided USB cable together with a charger from one's tablet or smartphone. Many tablet chargers have an output of around 2.1A and so will charge the Powerstation in about 3 hours from completely flat -- but generally far less as one does not normally fully discharge it. This is a quarter of the time it would take when using an ordinary phone charger.
The Powerstation can provide an output of up to 2.1A and so will meet the demands of any tablet. It is also certainly able to power two smartphones at the same time. However, many tablets are so power-hungry that it may not be possible also charge a phone at the same time so it is a case of "suck it and see". It is quite safe to do this as the Powerstation has built-in short circuit and overcharge protection.
The provided cable is suitable for any device that uses a micro-USB connector while, for other devices such as an iPad, one just needs to use the cable provided with the product although, if one want to be able to charge two phones at the same time, one will need to pack an additional cable.
Overall, it does what it sets out to do -- provide backup power while on the move. It is so simple to use that one tends to overlook the instruction booklet which has so many "don'ts" that it appears to have been written by lawyers. However, one very useful pointer was that it should not be operated in a pocket or laptop bag because of the risk of overheating.
At a list price of £89.99 and available on Amazon at £79.99, a Powerstation Duo is a practical addition to the kit of those who make heavy use of smartphones and/or tablets.