Verbatim and Freecom at Gadget Show 2012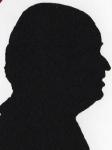 Once again Birmingham has five days of mayhem with the Gadget Show taking centre stage, amongst the outrageous and unlikely are some more grounded items. In the storage arena these are shown by Verbatim on their stand.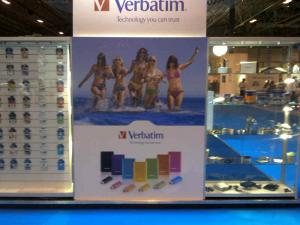 click image to enlarge
You can see everything at the show between today and Sunday although please check before travelling as I understand some days are sold out.
So when I say Verbatim what comes to mind, well for me anyway it is CD and DVD media. Of course they also do larger capacity flash drives, SSD drives - review of one such item coming shortly – hard drives, floppy discs - yes some people still use them – digital video cassettes, UDO discs which have a capacity of 30GB three times that of MO discs. USB drives SD and Micro SD cards as well as some less well known items such as speakers, mice, headphones, earbuds and looking at their website, paper, marker pens and even OLED lighting.
Here I will mention what is on their stand at The Gadget Show 2012. This is shared by their sister company Freecom. As you enter the show at Hall 8 proceed straight ahead and you cannot miss their bright and airy stand. I am sure stands like this will be a joy to be on as I am led to believe that all public days will be very busy.
Brand new and just launched are a new range of OLED bulbs which now include bayonet as well as screw fittings. Compare an OLED bulb to a Halogen one and the OLED offering will last about ten times as long. The other criteria's are heat, the OLED omits very little and perhaps the real clincher to give the equivalent light it uses approximately 25% of the power of the Halogen bulb. There is a huge range of styles on show on the stand.
Something else brand new and on show for the first time are Store 'n' Go USM drives these will be available to review shortly and I will bring you a full review in the coming weeks. Although they are external and the connection is SATA to SATA they can be connected via a choice of methods to the same drive. The options are USB3, FireWire or Thunderbolt. The drive unit is the same and you just clip the end unit and cable to the drive.
While USB 3 drive sticks are not exactly new they now come in new configurations at only a little more than their USB 2 counterparts. The Store 'n' Go V3 USB drives are available in sizes from 8GB to 64GB in a range of clip colours. The Store 'n' Go Micro USB Drive Plus is a slightly larger version of the Micro USB Drive but it is padded and has a ring on the end for easy connection to a keyring. Verbatim have listened to customer feedback about the very small size and lack of a way to keep it with things like keys and avoid damage.
Their sister company Freecom has a number of Mobile Hard Drives, tough drives and even do USB drives with leather cases. I have previously looked at one of their disc duplicator units that does not even need a PC for it to work.
Most but not all the items I have mentioned are currently on the Verbatim or Freecom sites but anything purchased before the 23rd April online is available with a 15% discount if you enter GADGET15 when you checkout your items.
So if you cannot get to the show or even if you do, buy from their sites before the 23rd for the 15% discount offer.