Photography for the Family

Rocky Nook has just published two books on digital photography: one is aimed at children and the other aimed at the rest of the family. The latter provides explanations of various factors involved so as to provide a better understanding of what is happening and, often, why. The former, Photography for Kids; A Fun Guide to Digital Photography, will open the door for the youngster to the potential of the camera and photography.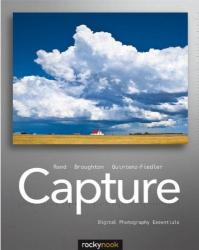 click image to enlarge
With Capture: Digital Photography Essentials, which is not for children, the authors recognise that there are two classes of people: digital natives, who have always known and used digital imaging technologies; and digital immigrants who, on the other hand, learned their photography with film and bring their historical knowledge and experience with them. Consequently, many chapters open with text aimed at providing a useful perspective.
Starting with a guide to the various camera types, from the consumer to the professional, it then goes on to the sensors which capture the light and discusses the key issues of resolution, colour and noise.
Basic optics (but not to any real depth) is the opening point of the chapter on lenses and shutters which covers a whole range of topics including apertures, zoom lenses, zone focussing, image stabilisation and lens flare before going on to leaf, focal plane and other types of shutter. This leads on to a chapter on basic exposure, exposure calculation, metering and a discussion of those situations where a scene is mostly light or mostly dark.
To go beyond the basics, the following chapter is entitled Exposure for Digital Photography. It covers histograms and exposures based on the histogram and then goes on to practical issues such as optimum exposure, understanding dynamic range and bit depth.
Various formats in which captured images can be saved are discussed as is metadata -- the extra, non-image, information that is attached to an image file -- prior to the chapter on image editing and correction. This looks at a range of different types of corrections and manipulations that can be carried out as well as looking at methods of working. This includes keeping track of images, naming protocols and backing up files.
To return to Photography for Kids. Starting with a potted introduction of photography it covers issues such as in and out of focus, blurring due to camera shake and movement of the subject. It then moves on to suggest a range of subject areas such as animals, "small objects" and portraiture where the use of the self-timer is referred to for self-portraits.
Neither book is intended to be a guide on the specifics of how to use a camera, they both adopt a more general approach. Kids could well open the eyes of an imaginative child to the potential of photography while Capture will provide a useful overall understanding as well as being a resource when one needs to learn about specific issues.
Capture: Digital Photography Essentials (paperback) by Glenn Rand, Christopher Broughton & Amanda Quintenz-Fiedler ISBN: 978-1-933952-72-7. Price £30.99 (but available on Amazon £20.14)
Photography for Kids: A Fun Guide to Digital Photography (hard cover) by Michael Ebert & Sandra Abend. ISBN: 978-1-933952-76-5 Price £18.99 (on Amazon from £8.99)