Bigtrak - Fun Retro Toy for Kids - 12 to 42

A classic toy never goes out of fashion. It's 30 years since I opened BigTrak in the Christmas of 1980, and it's as much fun today as ever. Great toys work through the ages. An excellent present for small kids and to remind big kids of their childhood. A big exciting bit of kid for around £30.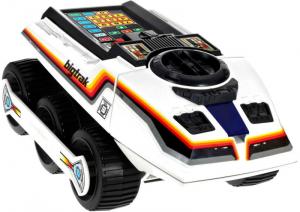 click image to enlarge
Bigtrak by MB first appeared in UK toy shops in 1979/80. It was a nifty-looking six-wheeled tank with a front-mounted blue photon beam headlamp, and a programming keypad on top. Bigtrak could remember a series of up to 16 commands which it then executed in sequence- moving backwards or forwards, turning in any direction, firing the photon cannon etc and all accompanied by loud sound effects
I speak from experience in saying that this was a toy guaranteed to annoy one's parents and little sister. I owned an original one back in the day so I was keen to get hold of the reborn Bigtrak - now marketed by ZT.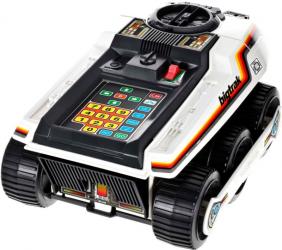 click image to enlarge
First impressions are that the packaging is perfectly and authentically retro. Unpacking the box reveals the naked Bigtrak, awaiting the application of the various colourful decal labels, just as it was back in the 80's. I eschewed the stickers and got straight to work inserting the 3x'D' cells required to power the mighty brain and motors of Bigtrak. Switching on and entering some simple commands I was pleased to note that this new version of the classic toy felt little different to the original version. Commands to move forward or backwards by so many lengths were accurately obeyed. With my memory jogged by the authentic manual leaflet I tried programming some turns into the sequence; finding that the slight inaccuracy of the original Bigtrak wheel sensors was still in evidence with right-angled turns ending up either acute or obtuse depending on whether Bigtrak was on carpet or lino.. Something a crafty programmer could adapt to and part of the fun.
Bigtrak originally had an optional tipper-trailer for carrying loads about. ZT say that their version of this add-on will be available soon. Our review sample was provided by Gizoo who are currently selling Bigtrak for £34.95 including free delivery.
A great retro fun toy for kids of today, whether 12 or 42 years old!