Brando USB Stress Ball and Belkin RockStar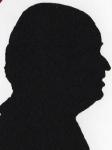 A stress ball shaped like a pear but is not new but having USB abilities is another clever item from Brando in Hong Kong. The second item is from Belkin a device that enables up to five people to fit their ear buds and listen to the same content.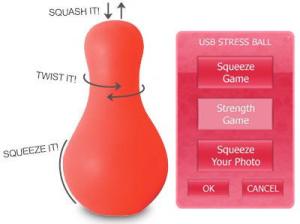 click image to enlarge
USB Stress Ball
The pear shaped ball (mine was red) is 10cm tall and 5cm across it is coated in rubber and it has three working actions.
Before attaching the stress ball to the PC you need to install the software and on my XP system it took 2 minutes and 40MB of hard disc space. The instructions say XP SP3, Vista SP1 or Windows 2000 SP4.
Connect the stress ball to a USB port it has a 1.2metre lead so it should have enough length to work from a rear port.
There are three different tasks that can be done with the Stress Ball. You can choose to load the software every time the PC starts or via the Program manager or desktop shortcut when required. The menu options are Squeeze Game, Strength Game and Squeeze your Photo.
Lets start with Squeeze your Photo this could be your boss, your ex or anyone else you are not pleased with you select the image in advance by browsing and telling it which image to use. Then by pressing, squeezing and otherwise punishing the stress ball the actions cause mayhem to the image on the screen, very therapeutic and somewhat safer than an image taped to a dart board.
Strength Game is simply a counter on the screen starting at 0000 and each time you squeeze the ball with sufficient force it increments by one, this task ends when the ball is not squeezed for 30seconds it's harder than it may sound and once into the hundreds you will certainly have a good grip beyond that remind me not to shake hands.
The third choice Squeeze Game takes whatever is on the screen and distorts it in various ways revealing a printed circuit board background. It could be your emails, your web browser or your word processor that gets the treatment, however in all cases no permanent damage is done to the photo or the application. You will in the case of the Strength Game get a much stronger grip.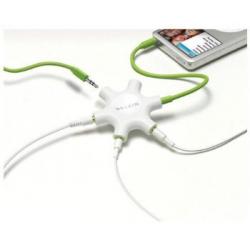 click image to enlarge
Available from the link below at $29.90 US plus $3 US delivery whatever your order size.
http://usb.brando.com.hk:80/prod_detail.php?prod_id=00797
Belkin RockStar
This is a 6cm across and 1cm thick six 3.5mm outlet unit. One is an a hard wired outlet to allow you to input from any device (such as an iPod or MP3 player) with a 3.5mm socket. The other five sockets allow you to attach other headsets (or should you wish) a second iPod or MP3 player. So in theory five people could listen to the output from a single unit.
There is a second 3.5mm lead to allow the attaching of a second unit. For those into making and mixing music this means that output from two different sources can be played through up to four sets of headphones or earbuds.
Certainly from the point of other users of public transport this is super device if other peoples music remains private and not played for the 'benefit' of the whole bus or carriage. A simple unit doing at best two jobs but that possibly benefits a lot of people indirectly.
Doing my Internet searches found the Belkin RockStar at a best price of £8.11 with delivery from first link.
http://www.amazon.co.uk/gp/product/B0017VKV2I?ie=UTF8&tag=gadge0a-21&linkCode=as2&camp=1634
http://catalog.belkin.com/IWCatProductPage.process?Product_Id=418642