Need a Third Arm?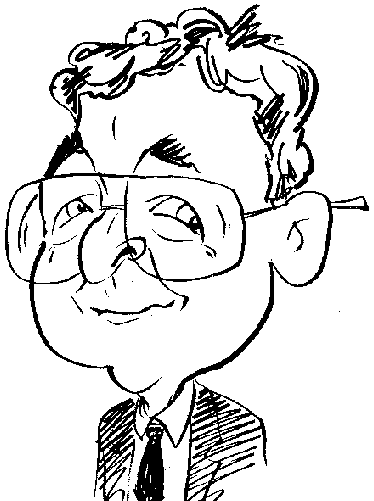 Review controls
If you had a third arm, just what use would you put it to? Maybe this next product could be used to experiment with different possibilities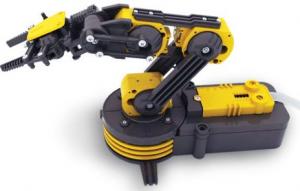 As a fan of the work of Isaac Asimov and his Three Laws of Robotics, I am always interested in products that have some bearing on the subject matter. Upon hearing about the Robot Arm from BBTradeSales, I was only too keen to take look at the product. Opening the rather large box containing this wired control robot arm kit brought back memories of one particular birthday present I received as a young boy from Kenneth Williams (no this was not the famous one). The birthday present was a kit to build a model aircraft and it provided my first attempt at model building. An unsuccessful attempt as it turned out but at least there was no need to purchase the four "D" batteries that are required in the construction of the Robot Arm. You will also need to supply a Philips screwdriver while a pair of long nose pliers and a diagonal cutter could both aid in the construction of this mechanical arm.
The actual elements making up this kit consist of motors, gears, shafts, screws, nuts, washers, battery terminals, LED, sponge pads, PC Board and various plastic parts. A 34-page Assembly and Instruction Manual provides numerous illustrations of the different components and how everything is supposed to fit together. While the construction illustrations are well drawn, some text instructions would have been appreciated. Despite taking great care and spending time checking out the illustrations before attempting each stage, there was more than one occasion when I needed to disassemble parts of the arm to correct mistakes that interfered with moving on to subsequent stages.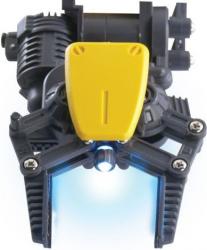 click image to enlarge
One particular area that caused problems was the magnetic property of the motors that attracted nuts from their designated locations. I lost count of the number of times I was forced to reposition nuts in their correct position. These nuts would be required later to hold screws in place rather than the bouncing around that the magnetic pull seemed intend on encouraging.
The whole construction process could take several hours spread over a number of sessions – or at least that was the route I took. Once completed, you finish up with a contraption that has more in common with a manufacturing assembling bench that a human arm. While it may not look like an appendage of a human or an Asimov style robot, which were android in appearance, you do have a mechanical arm that can be controlled in order to carry out a range of activities. As part of the project you put together a five lever remote unit. Described as a "wired control box", this device allows you to manipulate the two gripping fingers; turn the wrist though 120 degrees and elbow joints through 300 degrees; plus rotate the arm's base 180 degrees. You can also turn on/off a search light. Measuring 227 x 160 x 380mm (L x W x H), the robot arm, if securely based, should be able to lift and move items of up to 100g in weight.
The Robot Arm is probably best suited for an adult/child partnership as they work together to construct the device and share the satisfaction of a completing a project. Priced at £39.99, the Robot Arm is available from www.bbtradesales.com.