P34W V3 Gigabyte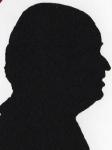 This latest offering from Gigabyte will have gamers interested, as most will know the Gigabyte brand is built on fast motherboards and everything else builds on that, a lot of Desktops have Gigabyte motherboards but they brand notebooks themselves.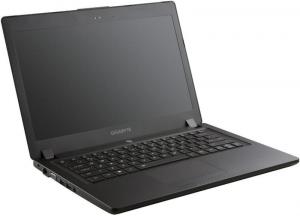 click image to enlarge
The Gigabyte P34W measures 33x23.5x2cm and weights 18.17grams. Like a lot of recent full size notebooks size and weight have been saved by the non-inclusion of an optical drive. If one is required you could always attach a USB one.
So just what connections do you get.
Starting from the back left a Kensington Lock fitment then an Ethernet Port and VGA out, two USB3 ports and finally headphone and microphone 3.5mm socket. The front has no connections so onto the right side that has a USB3 port, SD Card socket, USB3 port and HDMI socket and finally DC input. The back is also clear as the lid goes down over to around 135degrees.
Open the lid and joy of joys a matt screen and surround so those fingermarks do not show. The screen is 31x17.5cm which gives the diagonal imperial size of 13.9inches this is described as 14inches. The top centre of the screen has a pin hole microphone a web cam.
It has a full size 81 key keyboard with nearly 3cm clear on both sides and behind, in front is a shelf of almost 10cm for wrist happiness while the 10x5.5cm track pad is mounted 10.5cm from the left and 13cm from the right side.
This comes with 64bit Windows 8.1 but you should be able to upgrade to Windows 10 if required.
The specifications of my test unit are somewhat different to that of the advertised, I had a 120GB SSD drive and a 1TB hard disc, whereas the Gigabyte site mentions 512GB SSD and 2TB drive however these early test systems are often different capacities. The processor is an Intel i7 as stated. It comes with 8GB of RAM.
There is a 3GB NVidia GForce graphics chip. The standard 1920x1080 screen resolution is capable – with the right external screen – of displaying 4K resolution.
The site makes claims about cool running and I can confirm nothing felt hot even after a full day of use. In fact the fan is just one thing that can be tweaked to suit whatever situation and a whole range of options are available from the Desktop.
For those whose pleasure is Gaming the keyboard can be backlit so you do not require other strong light on the screen, certainly in my quick looks the blacks were graduated so instead of everything being jet black there were shades so shadows can show.
The Dolby sound was adequate through the inbuilt speakers but most gamers tend to wear headphones to hear that slightest sound and to also allow the rest of the family to sleep undisturbed.
I mentioned Ethernet and this is of course optimised Gigabit Ethernet for the fastest responses.
The Gigabyte P34W V3 is available from the first link below for £1188 with free delivery. More information from the second link.
http://www.amazon.co.uk/gp/product/B011Z7HRA2?ie=UTF8&tag=gadge0a-21&linkCode=as2&camp=1634
http://www.gigabyte.com/products/product-page.aspx?pid=5325#k