TP-Link's Archer C7 suits Superfast broadband

TP-Link's Archer C7 AC1750 wireless dual-band gigabit router can be used on DSL, fibre or cable Internet services and is targeted at gamers and other demanding users who need ultrafast data transfer speeds and don't want their router to be a bottleneck.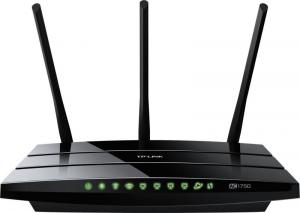 click image to enlarge
It has a polished black finish, is roughly 9.5 x 6.5 x 1.2 inches in size, and is designed to be either wall-mounted (keyhole mounting slots provided) or free standing on a desk or shelf. Connections and switches are on the rear edge while the status LEDs are on the bevelled front edge so that they can be easily seen when wall mounted or on a desk even if more difficult when placed on a very high shelf.
On the rear edge, as well as the Ethernet port for connection to the Internet via a DSL, cable or fibre modem there are four gigabit LAN ports, two USB2 ports and power. There are also the power, wireless on/off switches and the WPS/reset push-button.
The Quick Installation Guide offers the choice of configuring the router via one's web browser or via the CD Setup Wizard. I used the former. As the "Quick Setup" only covered the basics it was then necessary to deal with security and many other factors that were presented on the following series of screens that dealt with each of the various required parameters such as NAT, Parental Control, Access Control, and Bandwidth Control etc. At each stage a useful help guide was shown on screen even though some degree of understanding is expected.
I thought that the Guest Network Access, which provides secure WiFi access on both 2.4 and 5GHz bands for visitors sharing one's home or office network, is a useful feature in these security-conscious days.
Once set up, and security data changed, it was straightforward to put it into use with both wire and wireless traffic although I was unable to determine data rates even though, theoretically, it supports data rates of 450 and 1,300Mbps on the 2.4 and 5GHz bands respectively. In practice, with both wireless bands I was able to wander around the house carrying my laptop and be able to download and watch a movie from iPlayer. The absence of dead spots was probably because of the space-diversity technology from the three internal and three external antennas.
I found that the wireless on/off switch was very convenient even though I was less happy with WPS and Reset sharing the same push button. In reality, this is probably me being over-cautious as, for Reset, one must hold down the button for about 20 seconds.
Overall, I had more confidence in setting up and using the Archer C7 than I did with the ISP provided router. Furthermore, with the growing penetration of fast broadband -- irrespective of whether it is fibre or cable -- users increasingly need routers offering commensurate end-to-end performance. This will not be provided by the "free" ISP provided routers.
Priced at £120 but available from Amazon at £84.37 the Archer C7 has the required performance to enable users to interconnect their PC, their smart TV and other devices as well as using the USB ports to share a local printer as well as files of all sorts with networked devices or remotely via a FTP server. In addition, as it has a wide range of features including IPv6 support it provides a reasonable degree of future-proofing.