Viewsonic 23inch Panel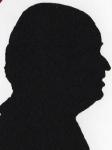 Having just packed up a 23inch panel and then unpacked this and put it in the same place I am amazed how much smaller this unit is. So size is not everything how does this compare in display, brightness, contrast and other ways.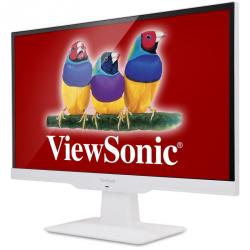 click image to enlarge
This Viewsonic monitor measures 40cm tall, 52.5cm wide and 1.5cm thick at the edges. The stand is 16.5x2cm and it raises the screen by 9.5cm from the desk. The viewable screen is 52.5x31cm which gives the notional diagonal imperial measurement of 23inches.
All the connections point down from a central area of the back, 3.5mm sockets for headphones and audio input the latter for those who use D-Sub. Next is the D-Sub (VGA) connection and then two HDMI connectors and finally DC input.
My unit was predominately white but had black surround to three sides of the screen.
The controls – should you need them – are in a line under the centre of the under hang of the base of the screen just above this is a bar LED to tell you if power is connected.
However for most all you will need to do is connect either a D-Sub or HDMI cable from your PC/notebook and switch on the power I tried three units and two of them used both D-Sub and HDMI the screen appeared correctly every change and the only adjustments I made was because they were available.
While the Contrast was set a little high for my liking – stated to be 50M:1 dynamic - there was still more available as there was with the other settings.
Overall colour was good and brightness was fine even for those annoying sections of movies that seem to be near black.
There is good back tilt and even a small amount of front tilt. No side to side movement is available on the stand but with the unit being light (3.2kilos) twisting from side to side is easy.
The display is of course full HDMI 1920x1080 and special eye software for those who spend their days glued to the screen that has a blue filter and it is virtually flicker free.
Most panels today have varying modes with levels set for various tasks; here they are Text, Game, Movie, Web and interestingly Mono.
The Sound was adequate when working in a room with the panel less than half a metre away. This is apparently a gamer's panel. I do not play many games and certainly not fast moving ones. However I did my duty by watching a DVD or three and also viewed images from online sites such as YouTube.
The VX2363Smhl-W is available from the link below for £125 with free delivery.
http://www.amazon.co.uk/gp/product/B00K6E8ACU?ie=UTF8&tag=gadge0a-21&linkCode=as2&camp=1634