AOC Android All In One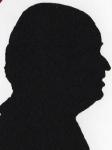 This is a Touch Screen Unit from AOC, it is also an Android unit in the same case, however it can also be used to connect to a PC/notebook via D-Sub or HDMI and if you add the supplied USB cable this gives you a PC/notebook with full touch screen ability.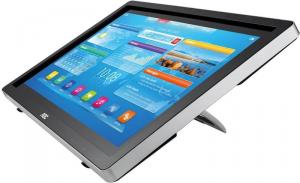 click image to enlarge
The AOC A2472Pw4t measures 60x37x3cm and has a viewable screen area of 51x29cm, which gives the notional diagonal imperial measurement of 23inches. The screen looks bigger as there are two borders, the border to the screen and then the actual units surround.
To change from HDMI or D-Sub to Android you use the touch screen controls at the bottom right of the screen. This action can be done before boot or even when the Android system is running and it is possible to switch between the two.
The Android system is entirely touchscreen, the controls on the side are a micro USB, microphone and speaker 3.5mm inputs and more unusually two full size USB that allow you to connect a keyboard and mouse or even a USB stick or USB hard disc thus you have more control than with a standard Android Tablet.
The controls on the back are D-Sub and HDMI to connect an external PC or notebook, the upstream USB port to allow that notebook or PC to become 'touch' and SD card slot, DC input and an Ethernet port.
The speakers on the panel are more than acceptable and using the buttons at the base of the screen you can have more than enough volume. The built in microphone is fine for things like Skype as is the built in Web Cam on the top centre of the panel.
For those who need just email, web browsing and what Apps can give you then having Android on a large flat screen is great.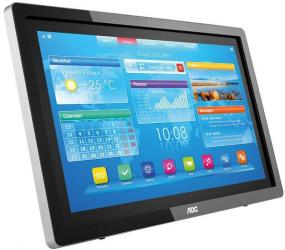 click image to enlarge
The touch works well as of course it should in Android as most recent phones and small tablets have all been touch controlled.
However 'Touch' on a PC is rather limited and while it will work with Windows 7, both current versions of Windows 8 were made for touch control so this is a win win situation.
Many will remember 'KVM' switches and indeed I still use one in my office to give me Keyboard, Video and Mouse control over two PCs with a single Keyboard, Video and Mouse. Here as Keyboard and Mouse are both controlled on the screen – the pop up touch keyboard is rather good being a lot larger than you get on a Smartphone or Tablet – and the Video is a simple change from the left most of the four buttons under the screen.
Only when you attach a PC or Notebook to the Panel do you really see how Windows 8 was designed, yes for those used to Programs rather than Apps it is different but I am referring to the touch element.
If you connect your notebook or PC via D-Sub (VGA) you will need to run a 3.5mm to 3.5mm cable from your PC to the Panel to get sound. If you use HDMI then of course there is no need for the extra sound cable as sound goes down the same cable as video. All the required cables are provided.
The AOC A2472PW4T is available from the link below for £432.84 with free delivery.
http://www.amazon.co.uk/gp/product/B00IB1KVAE?ie=UTF8&tag=gadge0a-21&linkCode=as2&camp=1634