AOC e1659 USB Panel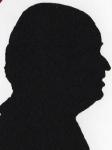 A somewhat unusual flat panel that requires just one connection, USB, no other power is required and it will configure itself as a second display. This is an ideal accompaniment to any Desktop or Notebook where a second display is required.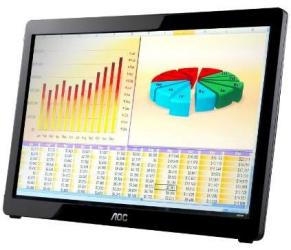 click image to enlarge
It is the same size as mid range notebook screen, overall it is 37x23cm, it is 1.5cm thick when the flip out stand is closed. It weighs just 1200grams. The actual screen display is 34.5x19.5 which gives the notional diagonal imperial measurement of 15.5inches.
The 'V' shaped support arm can be moved out in various amounts dependant on the amount of backwards tilt you require.
There are four pre drilled screw holes in the rear should you wish to mount it on a wall but no kit is supplied and I do not think many would choose that as surely portability and mobility are the uses for this neat little offering.
Apart from the screen the only other thing in the box was a one metre long 'Y' USB lead. This has a USB3 connector that fits into the panel. The 'Y' end has a USB3 (blue inside) end but this works perfectly well in a USB2 port. So what is the other arm of the 'Y' for, just to provide extra power should the device you are connecting to not send enough power down the other arm to power it.
I tried this on three different notebooks and all were powered correctly from the single arm connection.
At the time of writing the AOC site has a problem with allowing the software to be downloaded – I am told this is problem they are sorting – and I had to be sent a non public link to download the required files. I am used to being sent 'brown' boxes so I do not know if the required drivers etc will be supplied. I certainly hope so as it's rather like having a car without the ignition key without them. I have since been told that shipping versions will include a CD-ROM in the box with all the required software on it.
The drivers and third party software to allow you to choose where and what the extra display will show seem to be linked as the software installs before the unit springs to life.
The logical display position will be left, top or right but it can also duplicate the display shown on your laptop or desktop, this last choice can be useful as a teaching aid but surely in no more than a two to one configuration.
Being able to show a rapidly changing web page while you are working on something else is a good use, just drag the page off the screen in the direction you have set it to display and you can immediately see what it is showing while still having all the main display free.
Being USB means no extra power leads or adapters being required when out and about but of course if running your laptop on batteries this will drain them more quickly so that maybe it is better used on mains power.
The AOC e1659 USB Panel is available from the link below for £199.70 with free delivery.
http://www.amazon.co.uk/gp/product/B005SEZR0G?ie=UTF8&tag=gadge0a-21&linkCode=as2&camp=1634