Archos 97b Titanium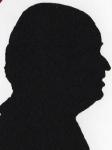 This is an Android device the screen size you might guess from the title is 9.7 inches. The colour is creamy white rather like those of another manufacturer whose name is taken from a popular fruit.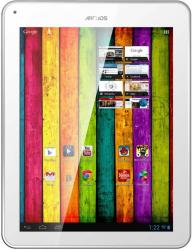 click image to enlarge
The Archos 97b Titanium measures 24x19x.8cm and it weights 633grams. It runs Android 4.1. The viewable screen is 19.7x14.7cm.
There are three buttons near to the top on the left side, the on/off that you need to press and hold for five seconds to turn it on and volume up and down just below it.
The other connections are on the base, headphones, pin hole microphone, DC input, micro USB and micro SD card port.
It has forward and backward facing cameras. The front unit is 2MP while the back unit 5MP but there is no LED flash.
The screen is one of the high spots as it can display up to 2048x1536. By default this is rather bright but it can be adjusted. Auto rotate of the screen is an option that can be turned off on most Android offerings not so here. While the screen will boot in portrait mode as soon as you have unlocked it then it goes to landscape.
The rear has a reasonable built in speaker that can play your music or output sound from your videos.
Setup worked well and once you have input your Wi-Fi details you can browse the WWW and send and collect emails. You also have access to Google Play Store.
Apart from Android 4.1.1 you get various Apps from Archos including a decent video player. There is a copy of Angry Birds installed one of the worlds most addictive games a reasonable office suite, and a book reader module, you can of course download books you have already purchased and if you have a favourite reader already most can be ported to Android. There is also something called Play Magazines which allows you to purchase a range of magazines and view them in high quality on the screen. I also found another pre installed game called World Of Goo.
I downloaded a range of free apps that I use all the time including an excellent Bus Tracker module.
I found the battery life a little disappointing at around three hours when watching video of playing games.
The processor is a 1.6GHz dual core processor with a quad core graphics element. It comes with 1GB of RAM but supports micro SD cards up to 64GB. It also comes with 8GB of flash RAM.
It supports DRM for downloading books; it also supports uPnP and Samba and can act as a media server.
It looks very good and the screen is excellent, I do however have reservations about delays when you first switch on, I found it initially sluggish to respond but after around a minute all seemed to catch up and from then on everything was fine. It also seems to run a little hot.
Graphics are great, screen is great, it looks great but I still feel a little uneasy. In a limited review period I cannot put my finger on it other than the comments I have mentioned.
The Archos 9.7 Titanium is available from the link below for £181.75.
http://www.amazon.co.uk/gp/product/B00B0C8UOU?ie=UTF8&tag=gadge0a-21&linkCode=as2&camp=1634