Viewsonic VP2770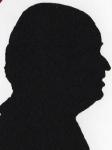 Review controls
A large panel that is not limited to 1920x1080 resolution. In fact in can display up to 2560x1440 which is a good step up from 1920x1080, this of course can be used to show more detail or just to display more than a single window.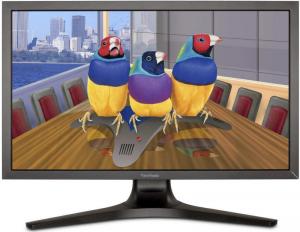 click image to enlarge
The screen surround is 62x37cm and the 'y' shaped stand lifts it a basic 8cm from your desk but there are other choices. The basic front to back of the stand is 32cm and side to side at the front of the 'y' is 52cm giving stability. The viewable screen area is 66x34cm which gives the notional diagonal imperial measure of a tad under 27inches.
However remove the shipping pin from the back of the stand the telescopic arm can lift the screen up to as much as 24cm above the desk, you can of course have any amount in between the 8 and 24cm to suit your environment.
There are a few degrees of forward tilt and a good amount of back tilt. You should be able to view from close to 175 degree side to side but there is some movement on the base available should it on occasions be needed.
The right bottom edge has five touch buttons 1, 2, down, up and on/off these are highlighted in white and a blue thin LED lights the junction when power is on, this changes to orange while it is trying to find a compatible mode.
The possible connections on the back are D-Sub (VGA), DVI, HDMI and Displayport. While 2560x1440 is the native mode it will display correctly in lesser modes. Also dependant on your video card or chip you may only be able to view at a lesser level. With one onboard chip I could get no more than 2048x1152 so do check before you buy that your card can support these extra resolutions. Whatever I used looked very impressive.
The rear has a line of connectors a USB connector from the PC to power the four port hub, two ports located just to the left and two on the side of the protrusion. Further along to the mains power input and then towards the right side all in a line Displayport, HDMI, DVI and D-Sub and finally an audio input for those connections that need one.
There is a small sheet – the only printed documentation – that describes how to attach and remove the base of the unit. This is a little more complicated than it looks and you either need someone to assist or find somewhere to turn the screen upside down to allow the locking/unlocking once in position an attached twist screw does the rest.
This unit – once the software is installed from the supplied CD-Rom – can work in either landscape or portrait mode. Documentation is in a PDF file on the CD which could be a problem if you do not have an initial display.
This is a professional display – price determines that – but for those who need detail and clarity it's the one to have. 3.7 billion Pixels – no I did not count them – is 80% more than in a standard 1920x1080 offering. Another mind blowing figure 1.07million colours and 20millions to 1 contrast ratio.
Unlike most more basic panels Viewsonic offer a 'no defective Pixel' with this unit. Most will only change with several defective pixels and this can often be exactly in the centre of your vision but then this is a high end offering.
If Santa is reading this then I would be quite happy to receive one.
The Viewsonic VP2770 LED is very new and only currently available at a few outlets. It is available for £521.75 including delivery from Business Force.
Full spec is available from the ViewSonic website