iGo Laptop Travel Charger

A major challenge faced by all travellers is how to keep all the electronic devices working that are now considered so important. The iGo Green Laptop Travel Charger offers a simple solution to enable the busy traveller to keep his laptop and USB devices charged irrespective of whether it is at the hotel or in a car or, increasingly, in the passenger compartment of a plane.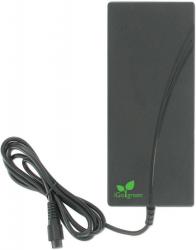 click image to enlarge
No matter how vital they are laptops, iPads and smartphones all need to have their batteries charged at regular intervals if they are not to die on us at a most inopportune moment. While we have individual chargers for each device, it is a nuisance to have to carry them all and a tangled mass of cables when travelling. This charger deals with this messy situation.
The travel charger is essentially a black, rectangular block 171 x 72 x 17 mm with the "iGo green" logo. With its cables it weighs 700g. It runs from 100 to 240V a.c. as well as 11.5 to 16V d.c. Hence it can be used virtually everywhere around the world. With an output of 90W it will enable one to run/charge the majority of laptops as well as charging USB devices.
There is a permanently attached 4ft long output cable which comes with a number of interchangeable tips to fit a wide range of laptops. As it is "guaranteed to work with your laptop" there is a note in the box saying that if there is not a suitable tip amongst those provided, go to the iGo website to request the necessary one free of charge. A note on the Web site says that "most items are shipped in 3 to 5 business days, however please allow up to two weeks for delivery."
The tip, which is designed so that it cannot be connected incorrectly, is a tight push-fit on the end of the cable. Once the charger, with the appropriate tip fitted, has been connected to the laptop it can be connected to the external power source.
For mains use it is supplied with leads with UK and European plugs. However, as the unit uses a standard "figure-of-eight" connector for the mains cable, for those traveling to the USA, there should be no problem in obtaining a cable with the normal US plug or, alternatively, one can buy an international adapter. The separate d.c. power lead is terminated with a dual cigar lighter/aeroplane connector. This, at first glance, appears to be just to have a standard auto plug. Then, when a latch is pressed, the end can be pulled off to reveal the airplane connector.
Overall, the iGo Laptop Travel Charger model number PS00134-2008 is a solidly built unit which should meet most needs. When comparing it with the ordinary mains charger provided with a laptop one must take into account the fact that it also works in a car or plane as well as obviating the need for a separate charger for USB devices. Overall, it will make life so much easier for the busy traveller and so should be a worthwhile investment. Having a list price of £79.99, it is available from Amazon for about £50.