Hitachi's mobile backup solution

The 500GB Hitachi LifeStudio Mobile is an external 2.5inch hard drive does not require external power. It is in an attractive light blue and grey shell and comes supplied with desk cradle complete with a double-headed cable about 1 metre long plus a separate USB cable about 50cm long. Thus, together, the user is provided with the cradle for desktop use and the short cable for use while on the move.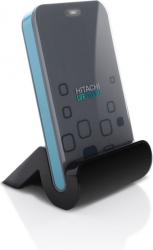 click image to enlarge
Software is supplied, not on a separate CD, but on the drive itself. It was straightforward to install. Unfortunately, it also requires Adobe Flash Player 9 and requests that it be downloaded from get.adobe.com/flashplayer. As there is no reference on the box to indicate this, and I had no broadband where I was staying, I had to wait till I returned to the office to complete the installation.
Once that was done the drive was ready for use as it was pre-formatted FAT-32. However, there was a note that, if you expect files larger than 4GB, you should reformat to NTFS. You are then pointed in the direction of a link to a Microsoft utility which allows format to be changed with files in place.
Backup is straightforward and can be setup to be carried out automatically at intervals. In addition, "Cloud Backup" is offered with the note that one can sign up and receive 3GB of Cloud Storage. Once having registered there is the option to buy more online storage capacity.
As soon as the LifeStudio software is installed one can see that it is aimed at being "all things to all men". In fact, it automatically opens up Liveshare which is a portal to a whole range of entertainment and news sites and well as providing both public and private group file sharing.
Although I found that the Liveshare software worked satisfactorily on my desktop machine, it would not on a somewhat elderly laptop. This was surprising as it appeared to meet the stated system requirements of XP, Vista or Windows 7. There was, however, is no reference to the amount of RAM required.
The drive came packed in a pleasant point-of-sale green and white box and so will be likely to attract the road warrior's attention in an airport "duty free" shop. The information on the box states that covers the Windows and Mac operating systems. Although on the box there is the slogan "The portal to your digital life", and the note that it is "powered by cooliris", it doesn't even mention Liveshare or the features that it offers.
This Lifestudio Mobile 500GB drive, once set up and working, will meet the needs of the road warrior who will have a more modern and powerful laptop. Hence, if the prospective user has time to plan ahead and install it in his/her leisure it will be a very reasonable purchase as backups were easy and one had the option to save to the Cloud which provides added security against machine failure or theft. Although priced at £59.99, it is available on Amazon at a lower cost.