Verbatim InSight LCD Hard Drive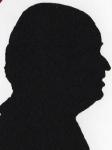 Review controls
This is a very thin 500GB portable USB hard drive that displays the free space available even when no power is available (or even connected to a PC). Could this unit be the way that all external hard drives will become?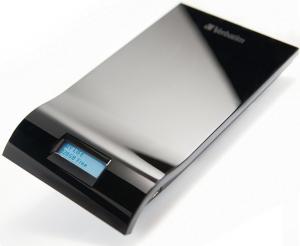 click image to enlarge
This is really easy to attach via the 50cm USB cable supplied, to any –preferably- USB 2 port and after a few seconds Windows will recognise it as an external drive. There is a tiny Quick Start Guide with two pages in English and a folded (equally tiny) sheet of paper with a single side in English explaining why 500GB means 465GB. It is also stated to work on MACs.
The hard drive already has the User Manual and Nero Back It Up Essentials 4 on it. To install the latter on your hard drive will take only 5MB of space. The User Manual on the drive is in 27 languages, the English one is 10 pages. However you will need a PDF file reader and none is supplied.
I then selected 11.9GB of various files from the hard drive and told it to back them up to the portable drive. The Nero interface gives full information while the backup is progressing and you occasionally see a blue flashing light from under the LCD display showing that data is being backed up to the drive however the LCD display does not change until after the backup is completed and the drive disconnected and then reconnected. So after that the 453GB shown on the LCD matches with the 11.9GB used for backing up the test dataset.
The Nero screen displays the number of folders selected so far backed up, the data size, number of files backed up, the ratio, the progress and the time elapsed and remaining. Under this are two file bars the first shows progress and the file name currently being backed up. The second shows current task and the percentage completed. Finally a text window under this logging tasks as they are started to show total progress.
In my first test example this was 16 folders and 11.9GB of data, this was a total of 126 files (mostly MP3 and MP4) this took an unremarkable 24 minutes and 50 seconds to copy, then a further 10 minutes and 46 seconds to verify the backup.
It was interesting to watch how the ration changed at one time it was as low .31% and at another 1.04% but it finished at .93%. The only other figure that varied more than a few seconds was the verification period that reduced by nearly three minutes during the process.
After you have created the backup you are returned to the front screen that now has four options, repeat same backup (more relevant the on your next visit) create a new backup, new project or exit program. However the bottom of this window does have a next button.
This shows four possible click boxes, Configure, Erase Disc, Disc Info or Create Bootable Disc, the latter would allow a restore, all these assume you are backing up to a CD or DVD drive so not really relevant to a Hard Drive.
The drive itself is 15x8.5x1cm and weights 168grams. The face is shiny black (shows all your finger marks) and the sides and base are a matt rubberised substance.
You do not have to use Nero should you already have a favourite backup package and it can then just be used by any package that is happy to backup to a USB drive.
Doing my Internet searches found the Verbatim InSight 500GB Portable Hard Drive at a best price of £69.99 including free delivery from the first link below.
http://www.amazon.co.uk/gp/product/B002S8WUXC?ie=UTF8&tag=gadge0a-21&linkCode=as2&camp=1634
Doing my Internet searches found the Verbatim InSight 500GB Portable Hard Drive available for $95.08 including free delivery from Amazon on the link below:
http://www.amazon.com/gp/product/B002LLJJAS?ie=UTF8&tag=gadge0a5-20&linkCode=as2&camp=1789
I found the Verbatim InSight 500GB Portable Hard Drive available for €104,46 including free delivery from the first link below.
http://www.amazon.fr/gp/product/B002S8WUXC?ie=UTF8&tag=gadge04-21&linkCode=as2&camp=1642
http://www.verbatim-europe.co.uk/en_1/product_insight-portable-hard-drive-500gb_18246.html