Aspire Revo from Acer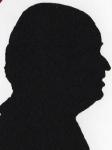 A rather different PC in that all you get is a small box not a lot bigger than a video cassette and a wireless keyboard and mouse. This can even be mounted on the back of a panel or a TV so maybe ideal for the occasional user.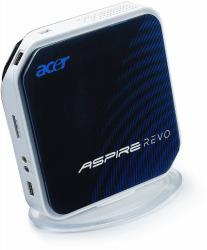 click image to enlarge
The computer is 20x19x3.5cm, it has shiny black sides with the edges being off white, it will just about stand unsupported but a stand is provided (clips into the base or it can be fitted so that it fits parallel to the back of a TV.
The whole unit is slightly tilted back, on the top is a USB port, the back has a multi card port, two 3.5mm jack ports for earphones (or external speakers) and microphone and an eSATA socket. The front has two rows of two USB ports, Ethernet and HDMI ports, VGA for external monitor and finally a DC input, that's what it has. The on/off switch is mounted on the top left front corner and needs to be held in for a couple of seconds.
The external wireless mouse and keyboard are both neat, dimensions to follow and the base of the mouse hides the transmitter that fits into one of the USB ports, this – I am told – is described on a piece of paper, however this did not arrive with my test unit and it took me a while to finally work this out for myself, easy when you know.
The keyboard is 32x14x2cm the last figure is at the back to provide a tilt and it is only 1cm at the front. It is 86 keys and all but the function keys are 1.5x1.5cm and there is a full .5cm between the keys so no trouble in touch typing. The mouse is 10x4.5x3cm the last figure the height is in the centre (under your palm) there are no actual buttons but pressing the area either side of the scroll wheel at the front makes all the normal mouse actions. There is a tiny on/off switch on the base to allow you to save the two 'AAA' batteries if you are not using it for a while. The keyboard also runs on two 'AAA' batteries and once the receiver is plugged in a click on the connect button is all you require to make contact for both the keyboard and mouse, easy to use on your lap.
Windows 7 Home Premium 64bit version and software Bullguard supplied (stated as a £49.99 value), I was actually sent a mix of McAfee and Norton, but the Bullguard as a single supplier would be better. As always with Acer products you get a raft of utilities and trial games. While on the subject of trials you get the 60 days Microsoft Office as well as a full copy of Works 9.
Anyone comparing this to a Netbook would be wrong as it is supplied with 2GB of RAM and not the one supplied with Netbooks. The processor is however an Intel Atom 330 running at 1.6GHz so fairly similar in that context.
The actual hard disc sizes are 108GB for 'C' and 109GB for 'D' I assume this is a single drive and with the hidden partition the disc is probably around 240-250GB in size.
So what extra will you need to purchase, if you want sound then either a set of speakers or possibly some headphones or earbuds. You also need a way of viewing and while this is logically a panel or monitor you could get by with a TV but if you settle for the TV remember this will often be a low (even 640x480) resolution.
I see this as ideal for someone to check emails and write the odd letter perhaps the 'silver surfer'. The wireless keyboard and mouse work well even when a few feet away as you would be if you use a TV but remember not any old TV will do it must have a VGA socket and you will need to purchase a cable if you do not have one.
So if you are short of space and do not use the PC a lot then this solution from Acer could well be it.
Available for £239.39 from the first link below that's nearly £100 less than the recommended price.
https://www.saveonlaptops.co.uk/Acer_Revo_R3610_655101.html
More information available on the Acer web-site