Eee Top All In One PC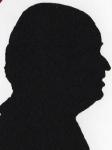 This seems to be a style that has been touched on by several manufacturers but that so far does not seem to be that popular. You have what looks like quite a thick TFT display and this hides the PC everything else is connected via USB.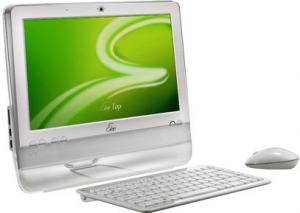 The ASUS Eee Top 1602 measures 40x30x4cm and weights around 4.5kilos a good part of this weight is in the substantial carry handle and adjustable tilt balance that adds between 5-10cm to the 4cm depth. The screen is 35x19.5cm and gives a best resolution of 1366x768.
This is Windows XP and another front 'easy' end for the real novice (very like the recent friendly Linux offerings) but it can be clicked away after booting. The biggest surprise is that it is also touch screen. So while it comes with mouse and keyboard a lot of the time the mouse can be tucked away.
Below the screen are a pair of speakers, only the rear and left side have any connections. The left side has an SD and MS card slot as well as two USB slots, I suggest the mouse occupies one of these as it has only a 70cm lead and if attached at the rear it is decidedly short. While on the supplied peripherals the keyboard has a far more generous 1.35metre lead. It is touch typeable even though this 84key offering is only 32x14cm with all but the function keys being full sized, 32 of the keys also have a separate function via the 'FN' key.
The other connections are under and between the carry handle and tilt balance that is Ethernet, 3xUSB2 ports, DC input, three audio sockets (microphone, input and headphones) another USB port and a Kensington lock socket.
A lot of people only think of 'Eee' as the maker of Netbooks and perhaps it would have been better to have launched this under the parent company Asus name to avoid that confusion, it appears on the Asus website and not the Eee one, so I assume Asus were unsure as well.
It has a 130GB hard disc split in a strange way 'C' 40GB and 'D' 90GB with most applications wanting to install on 'C' this could be a mistake. It has 1GB of RAM and the familiar 1.6GHz Atom processor. There is a 1.3MP web cam built into the top of the screen surround so ideal for things like Skype.
The one thing lacking is a CD or DVD drive but of course there is nothing to stop you connecting a USB unit. Not only does it work well via Ethernet but also wireless and one huge omission is some Anti Virus software, I installed a copy of the free AVG software as I do not like connecting to the web without any such software even when it is for a short review period.
Of course booting and shutdown times increase somewhat with A/V software installed so I will quote both the before and after figures. Shutdown 30/33seconds boot up 45/55seconds. So only a small time increase unlike that encountered with some more 'full featured' packages, but you are still protected.
There is a quick start sheet that basically has three diagrams to cover connecting the keyboard and mouse and showing you where the on/off button is. There are also 40 pages of the User Guide in English that would certainly enable the novice to make most required adjustments.
In a way you might probably compare this unit to a tablet PC with the touch screen ability okay so it's not mobile but there are applications where ticking check boxes are all that is required and of course this works brilliantly for the non computer literate as they just 'touch'.
Mine was black but I see they also do white, it is available from the first link below including free delivery for £399.99.
http://www.amazon.co.uk/gp/product/B001KU81RS?ie=UTF8&tag=gadge0a-21&linkCode=as2&camp=1634
Mine was black but I see they also do white, it is available from the first link below including free delivery for $522.
http://www.amazon.com/gp/product/B001SEC2OY?ie=UTF8&tag=gadge0a5-20&linkCode=as2&camp=1789
Mine was black but I see they also do white, it is available from the first link below including free delivery for €652,53.
http://www.amazon.fr/gp/product/B001PLJA4A?ie=UTF8&tag=gadge04-21&linkCode=as2&camp=1642
http://uk.asus.com/products.aspx?l1=24&l2=169&l3=0&l4=0&model=2290&modelmenu=2