Rock Powerful Notebook Pegasus 520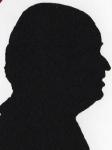 Review controls
I can safely say this is the most powerful Vista notebook that I have reviewed. So should you be requiring speedy graphics you might like to cast your gaze in this direction as the Nvidia Geforce 9650M GT 1GB can help you in your pursuit.
Buy Now!
Rock Pegasus 520
Direct from Rock
£999 including VAT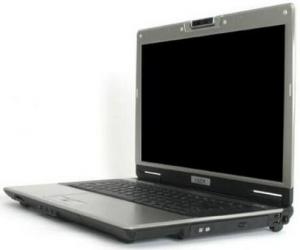 First the size, the battery does stick out in the centre of the back so I will give the depth including the battery. It is 35x28x4cm. The viewable area of the screen is 33x21cm giving the notional diagonal screen measurement of 15½ inches. It weights 2.9kilos.
Next a quick move around the outside, on the left there are two USB ports a full size Firewire, PCI Express and an E-Sata. On the front a card slot for SD and MS and mini Firewire port and three audio sockets. The right side has the Multi DVD re writer, two further USB ports and a modem port. While either side of the 2cm that the battery protrudes on the back are Kensington lock port, Ethernet, VGA and A/C input. The face is shiny black while the sides and base are matt black all apart from the centre catch that has ROCK in shiny silver with matt grey edges.
Lift the lid and the screen surround and keyboard area are both silver/grey. There are five pinhole LED's in a line 5cms from the left edge and what they do is stamped into the face. The large trackpad is mounted 12.5cm from the left and 15cm from the right; it is 7cm wide and 8cm deep. It has a nice smooth action and for security between the two mouse buttons is a fingerprint scanner.
The keyboard itself fills an area 29.5x10.5cm and has a black surround. It is an 87key offering with the alpha and numeric keys being full size. Behind the keyboard is a 3cm wide strip this has four silvered push buttons and three pinhole LED's on the left and near the right top edge the 'on' button with built in blue LED this is also silvered. On the top edge of the screen are twin pin hole microphones and between them is the rather good web cam.
As with all notebooks the 'Fn' key allows the function keys to have extra actions, it also allows you to use various alpha keys as a numeric keypad also a fairly normal offering but not quite so normal the A E O and U keys have alternative accented keys that are used for some European languages.
Shutdown was a very rapid 17 seconds and Startup was 90 seconds to all the icons (including gadgets) being displayed on the desktop. The Windows Experience score was a very respectable 4.8 This figure is always defaulting to the lowest score and that was Memory Operations (RAM) while the other four items were all over 5. Processor 5.1, Graphics 5.3, Gaming Graphics 5.4 and Primary Hard Disc 5.4.
The specifications are Intel Core 2 Duo T5900, 2.2GHz, Nvidia Geforce 9650M GT 1Gb Graphics, Hi-res WSXGA+ 15.4" Screen, 4GB DDR2 800MHz, 500GB 5400rpm SATA HDD, 8x Dual Layer +/- DVD-RW.

The operating system is Windows Vista Home Premium. Supplied software is BullGuard (90 day), Web Cam software, Nero 7 Essentials and Protector Suite for fingerprint scanner.
If you have a bright light behind you the glass of the screen can be very reflective so some careful sighting of the unit may be required.
This – as stated – is a very rapid unit and the price of £999 means it somehow breaks the glass £1000 ceiling. It is unusual for a 15.4 inch system to actually measure at 15.5inch but unless my tape measure has stretched that's what it is.
I had a decent review period of a month – other companies might like to read this – that enabled me to attach a range of peripherals and also install several heavyweight software packages. It handled everything as well as its high specifications should.
Battery life was close to four hours in 'normal' usage and around 1½ DVD's before you start getting dire warnings. However I suspect this will normally be used as a desktop replacement. If you are looking for a powerful notebook under £1000 then should certainly be on your short list.
http://www.rockdirect.com/viewNotebook.php?pName=PEGASUS%20520&T=SPECIAL