BT Home Hub 2.0 and Hub Phone

Published Dec 11, 2008 Author
petew
Review controls
Version 2 of the Home Hub from BT adds both style and functionality to an already good product. Coupled with the BT Hub Phone it will offer most of the capabilities an average home could want.
Buy Now!
Home Hub 2.0
£88.70 direct from BT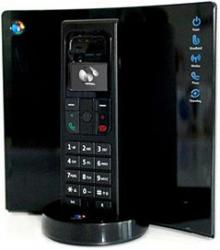 Broadband hubs, or routers, are traditionally fairly drab units designed with function in mind. Originally these devices would have been stuffed away in a corner or behind the sofa - out of sight. Integrating wireless into such a device has always caused conflict between utilitarian design and the need to place the hub somewhere in the open to get the best wireless signal.
The solution of course is to pay as much attention to the styling of the device as to the function and make it good enough to sit proudly on display in your home. Much the same mentality aided in the re-invention of Apple where the grey boring office PC found itself up against the stylist must-have Mac. BT have done a very good job in styling the latest version of the Home Hub. The concave design with highly reflective piano-key black front looks very good indeed.
The Home Hub is not however just there for looks - it is also a highly functional communications product. The rear of the hub contains inputs for broadband (ADSL) and for your standard phone line plus four wired Ethernet ports and a USB socket. Fully connected the Home Hub provides both voice (through DECT) and data through wired and through high-speed 802.11n wireless technology. The USB socket allows you to use and share an external hard-disk with users across your network. This can be useful for backups or as a convenient place to store media files such as videos that you may wantto watch from various different devices.
This update to Home Hub includes a nod in the direction of the environment with the ability to schedule 'stand by time'. Use this feature much like turning your heating off at night. Simply tell the product at what time of day it's services are not required and it'll quietly shut itself down into lower power mode.
I'm very pleased to see some access controls available. Particularly useful if your kids kids have a computer in their room and they won't get off to go to sleep. Controls allow specific machines to be disconnected from the Internet at specific times.
BT Hub Phone 2.1
I'm testing the Home Hub with it's dedicated partner the BT Hub Phone. This is in matching black, comes complete with two standard AAA rechargeable batteries and a charge station. As well as operating as a standard voice phone over your land-line this particular hand-set also includes integrated Voice over IP (VoIP) capability.
The VoIP capability is of particular interest. Think of it as very much like the voice part of Skype but without requiring your computer to be switched on - in fact you use it just as though it were a separate telephone line. The line quality for VoIP calls will tend to vary greatly depending as much on the equipment at the other end as much as on your shiny new Home Hub. Good results are however possible.
Summary
A lot of thought appears to have gone into this latest generation of the Home Hub to ensure that it meets the requirements of most households, and probably a many small/home businesses.
Price depends on who you are. If you're a new BT broadband customer then depending on the tariff you choose you can get the hub for free. Non-BT customers can purchase the device for use with their own ISP for £88.70 from the BT shop :
http://www.shop.bt.com/productview.aspx?Quicklinx=56B4
The Hub Phone (version 2.1) is also available from the BT shop, priced at £68.50 :