ASUS VX3 Series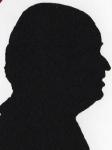 What is it with fast car references, Acer have their Ferrari high end offerings and ASUS have this Lamborghini offering, the Acer starts up with the sound of car moving past while this starts with a very throaty Lamborghini revving up.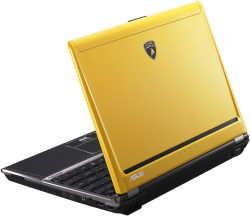 Asus Lamborghini VX3 laptop computer measures 29.5x22.5x3cm and quality really shines through, it has a fingerprint reader and the area either side and around the touchpad is leather. The screen is 26x16.5cm giving the notional 12.1inch diagonal measurement. It runs natively at 1280x800 and is very clear and easy to read.
My unit came with two batteries a small one that does not protrude but in normal conditions will probably only give enough power for around an hour and a far more beefy one that gives nearer three hours without ruining your eyesight.
The unit is thinner at the front by .5cm than at the back giving a nice little rake to the keyboard. The right side has the DVD multi drive, headset and external microphone ports as well as a Kensington lock point; there is also a single USB2 port and also a Combo Socket that accepts SD and MS Pro cards. The rear has modem and Ethernet ports and after the battery protrusion (assuming you have the larger one inserted a VGA outlet. The left side has three further USB2 ports an HDMI port, PC Express Card slot and a wireless/Bluetooth slider; it also has the A/C power input.
Behind the 86key keyboard (all alpha and numeric keys are full-size) is the chrome speaker bar with a couple of bar buttons five quite bright white LED's and a pinhole microphone. Move to the top of the screen and there is a built in webcam.
One of the first things I do is run the Windows Experience performance and it is also one of the last to see if there is any change. Here the overall is 3.4 from Desktop Graphics, Gaming Graphics were a good deal better at 4.5 with RAM at 5.0, Primary Hard Disk and Processor both coming in at 5.4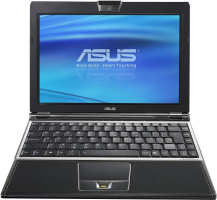 click image to enlarge
One interesting point was initially (first week) I was using the small battery and here the boot time was very close to two minutes and shutdown was almost a minute. The second week I used the larger battery when not on mains and boot and shutdown times were nearly halved. I then swapped back to the small battery and the times increased.
The hard disc is described as 320GB it is divided into two 'C' is 149GB and 'D' is 141GB I make that 290GB surely that takes the differential between 1024 and 1000 to the maximum. The processor is an Intel Centrino Duo T9300 running at 2.5GHz and it has 3071MB of RAM available to Windows. It is also HSDPA for fast Internet activity.
It comes with a whole raft of ASUS utilities and applets, amongst other things the DVD drive is also LightScribe capable and some software for that is included. Nero 7 Essentials, Infineon (for fingerprint) software as well as 60 day version (25 uses) of Microsoft Office as well as Vista Ultimate are installed. I am pleased to say I found no scent of Norton to clog up the unit however you really should install some anti-virus and other essential software before you venture onto the Internet.
Of course my arduous duties included watching a DVD or three and you would not be able to watch one on the small battery, two would need to be short on the larger battery but clarity and contrast were good.
While writing this it is sitting just behind my desktops keyboard as I check a few facts and the screen is crisp clear and easy to read even though it's a good 60cm from me.
Doing my Internet searches found the ASUS Lamborghini VX3 at a best price of wait for it a little over £1733.97 including delivery from the first link luxury never comes cheap.
http://www.it247.com/Product/621-VX3-2P001G
http://uk.asus.com/products.aspx?l1=5&l2=25&l3=309&l4=0&model=2169&modelmenu=1