Prisma Encore Speaker System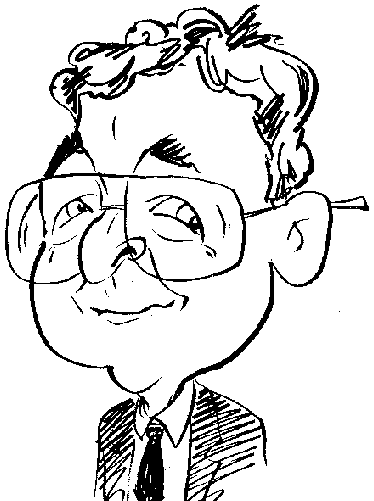 Review controls
Edifier has recently added to its range of Bluetooth aware speaker products with another 2:1 system.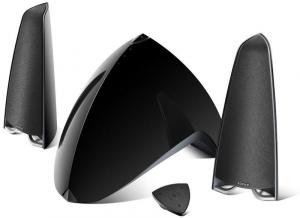 click image to enlarge
As I have mentioned in the past, probably on more than one occasion, I tend to look forward to the arrival of a new piece of Edifier kit. I am always keen to see what physical shape will have been used for the pieces making up the company's latest speaker unit. In the case the Edifier Prisma Encore, a 2:1 speaker system, the company has combined an ancient battle helmet look with that of a triangular pillar that is narrower at the top than the base.
Along with the main units of the sub-woofer and two satellite speakers with permanently attached leads, the Edifier Prisma Encore comes with a collection of other items that are initially laid out on their own polystyrene layer. There is a two-piece mains power lead with 3-pin plug, a curved remote control unit powered by a CR2025 lithium-button battery, 3.5mm to 3.5mm audio lead, single to double connection lead and a small User Manual. All the various plugs that form part of this kit are gold plated for optimum performance. I almost forgot to mention that you also get a small cleaning cloth to help remove the build up of finger smears that are bound to occur due to the lacquered surfaces found on the sub-woofer and satellite speakers.
The central 40W sub-woofer, with its lacquered black front, adopts the shape of a helmet that might have been worn by warriors of a much earlier age. Audio output from this sub-woofer is from a down-firing 5-inch driver. Positioned at the rear of the sub-woofer are the various connection options. There are connections for the left and right satellite speakers, auxiliary device and mains power using the supplied lead. Optional touch sensitive controls and a status light can be found at crown of the helmet shape.
The two satellite speakers have a material covered front concealing the 3-inch midrange drivers and ¾-inch silk-dome tweeters. The other two sides feature lacquered faces to match the sub-woofer. All the three units have what look like decorative metal feet positioned at their base.
As well as the wired auxiliary connect, such as an MP3 player or early iPod device, this 2:1 speaker system supports Bluetooth connectivity. Setting up this feature is activated via the wireless remote control unit. You need to hold down the appropriate Bluetooth button on the remote control until a light on the top of the sub-woofer turns blue and then you can pair a smartphone or tablet to the speaker system. I found that the connection was quickly established. The light changes to green when connection is via a non-Bluetooth device.
Located near the blue/green status light are various touch sensitive controls. These buttons cover features such as power on/off, Bluetooth activation and volume increase and decrease. The positioning of these controls is such that I feel most users will find it more convenient, especially as sub-woofers are sometimes tucked away rather than being placed for convenient access, to use the wireless remote control which can be kept close to hand. However you do need to be aware that the remote requires a direct line of sight to the front of the sub-woofer for the signal to get through.
Edifier Prisma Encore 2:1 Speaker System

| Power Output | RMS 12W x 2 + 40W |
| --- | --- |
| Signal to noise ratio | >85dBA |
| Frequency response | 65Hz~20KHz (+/-6dB) |
| Input type | Bluetooth / AUX |
| Input sensitivity | R/L:500mV+50mV |
| Bass unit | 5 inch |
| Mid-range unit | 3 inch (78mm) |
| Treble unit | ¾ inch silk dome |
The Edifier Prisma Encore Speaker System has a stylish appearance that will not look out of place in a living or office environment. As long as you are not looking for the full Hi-Fi experience then the delivered audio will be of a reasonable standard. Pricing has been set at £129.99.
http://www.edifier.com/speakers/e3360-prisma-encore-bluetooth-2.1