Hoover A2 Cylinder XP71_ID20001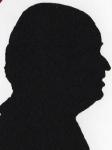 Having recently looked at two bagless upright cleaners it seems only right to review a similar bag less cylinder option. Here a 700watt option from Hoover that is an immediate winner from me for one small feature that it has.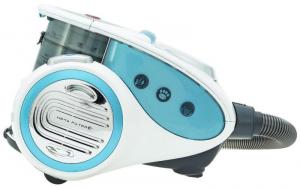 click image to enlarge
The Hoover XP71 vacuum cleaner measures 43cm long, 27cm wide and between 10 and 30cm high. It weighs 6.4kilos.
As with any corded machine you need to work out the best position to plug the unit in to enable the least number of plugins to do the whole property. As I live in a bungalow I had previously found that 7.5metres from a central point covers everything.
I read somewhere that this has an 8 metre lead; on my unit this was 6 metres but with the hose and length of the unit taken into account the total length was 9.5 metres so plenty for my property.
As always stairs for most would be a problem but the 3.5 metre length from the unit to the extent of travel of unit should help to negotiate most stairs in two stages. The top has a carry handle to make transport easier. It moves on a flat surface easily behind you with two large back wheels and two small front ones.
A lot has been made recently about total cleaning power figures and indeed those over a figure more than twice this units 700watts output are now illegal to manufacture.
It has an eight sided instruction manual that is readable for all with three pages of diagrams and four pages of instructions in a readable typeface.
There are just two buttons on the unit both at the back of the unit and both big enough to be operated by a foot. Back left is cord retraction which works well. Back right is on/off.
The end of the arm (leg) has a choice of two feet one for hard floors and the other for carpets. There is .5metre of extension in the arm to suit all heights and if you need to stoop to hoover then you have it adjusted incorrectly.
There are two small wheels on the back of the foot which is 26cm wide and 16cm deep from front to rear, it is 4cm tall so in theory if you have more clearance than that under the sofa you can hoover without moving the sofa.
To get a smooth movement from the wheels I found quite a low angle from the pipe was required and some adjustments could be required to stop you putting in a lot of effort and let the hoover do all the work. This is one drawback of a cylinder for me all uprights only need starting up to work efficiently, a cylinder needs you to experiment to find the correct working angle.
Emptying the drum where all the dust and grip is stored is just one click of a button hidden under the rim and reattaching is just as simple. There are a range of small attachments as well as an upholstery cleaning foot.
Having only 700watts of power does sometimes mean larger bits of debris need a couple of passes to collect or even you picking them up yourself.
The Hoover XP71 is available from the link below for £249
http://www.littlewoods.com/hoover-xp71-id20001-a2-bagless-cylinder-vacuum-cleaner/1410188577.prd