Swann Video Camera and Recorder DVR4-1500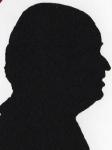 I have looked at several devices that record onto SD and Micro SD cards. This is the first such device supplied with a recorder unit. This should therefore give better quality results and therefore provide you with better evidence.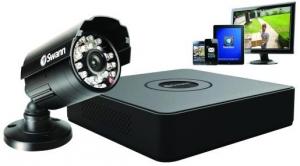 click image to enlarge
The recorder box is 23x19x4cm with cables inserted. The supplied camera is 16x5.5x5cm.
This kit provides everything you require and as a kit you get two manuals one for the security camera and one for the recorder unit.
If you need more than one camera it can be supplied with two, three or four cameras.
When you first look at the camera you think it is fixed in a line from the three screws so it will only point straight ahead, in fact it can be articulated into almost any angle as it can be adjusted in no less than three places to get to any angle.
The PRO-510 has a 1/3 inch CMOS with a resolution of 648x488. In daylight or lit areas at night the images will be in colour at night with no lighting the image via infra red will be monochrome. The viewing angle is close to 70degrees.
The camera is suitable for mounting both indoors and outdoors. It is stated to function between -20 degrees Celsius and + 60 degrees Celsius. The camera weights just over 250grams.
The recorder unit comes with two manuals the first an A5 offering consists of 56 pages and covers installation and usage. But importantly also covers advanced configuration.
The second a 96 page A4 offering is more advanced and likely to be useful for those monitoring several units. It also covers the client software on the supplied CD-ROM.
I suspect most 'normal' homes will be satisfied with a camera that stores data on a memory stick and like most forms of insurance you hope you never need it.
The supplied video recorder can record up to 320GB of data. As it has a VGA out among others it can output video to almost any recent monitor or panel. It can also out to USB or a network. While the kit I was sent has only one camera the video recorder has four inputs on the back so the same unit can take several inputs.
The camera (or cameras) can view up to 20 metres away. You can set the motion detection to work at predefined times and also set it up to send email alerts etc.
I managed to fit this myself without any great difficulty but I see Swann do offer a fitting service if required and if you have a business to protect the extra cost might mean less hassle from an insurance company should a claim be needed and the coverage or images be less than perfect.
I was perfectly happy with the quality of images captured in both lit and unlit areas. Although the culprits – I am pleased to say caught on camera where local wildlife with a range of cats or foxes being the main visitors along my driveway.
The Swann DVR4-1500 is available from the link below for £159.99 with free delivery.
http://www.maplin.co.uk/p/swann-advanced-320gb-4-channel-compact-cctv-kit-with-1-bullet-camera-n72ql