So many gadgets... so much energy

Published Oct 22, 2007 Author
petew
Review controls
We're all aware of the impact of carbon dioxide on the environment causing global warming, climate change, flooding and worse is to come. We can reduce that impact by reigning in the release of CO2 into the atmosphere. The boffins are looking at some very clever ways of doing that, but in practice this means using less energy! As we enter "Energy Saving Week" we're looking at a little gadget that may help you change your energy burning habits.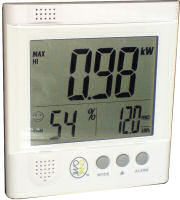 Dubbed 'The OWL' this device comes in two parts - a sensor unit and a large display unit. It allows you to wirelessly monitor your households electrical energy consumption. The argument being that if you can see how much energy you're using you're more inclined to do something about it.
The sensor is very simply installed around the incoming live mains supply just before your fuse box (or consumer unit). Unless you have a particularly inaccessible supply you can do this yourself with no technical expertise, although the instructions come with lots of warnings. A bracket is supplied to allow you to securely mount the sensor on the wall.
Once installed the sensor immediately starts transmitting energy information to the display unit. The range wireless range is excellent - much better than our household WiFi signal that give up after a couple of walls. Rather than display what many might consider meaningless killo-watt numbers (which it can do!) a alternative for those with a good imagination is to have it display the number of kilo-grammes of CO2 pumped into the atmosphere. Perhaps the best option for many people is to enter into the unit the actual price per KW-hour that you're charged for your power. You'll then see very clearly what your electiricy habit is costing you - now that's much more of an incentive!
Unfortunately the tariff function is fairly simple - you enter a fixed price per unit. Many customers in the UK will have some variation in their tariff - for example, different day time/night time tariff. In these cases you'll have to select an appropriate figure that represents your particular circumstances.
Being an engineer by trade, and a gadget fan by nature, the first thing I had to do was to see just how high I could get the figure - just for comparison of course and to know how much I could cost myself if I just don't bother turning things off. The figure : around 11KW. That's the equivalent of 110x100W light bulbs. To get there I turned on every light and every appliance I could including tumble dryer, electric oven, kettle, toaster, TV, video... you get the picture!
It should be noted that we've already replaced all suitable light bulbs with low-energy equivalents. If we hadn't done that we could probably have added an extra KW to the total.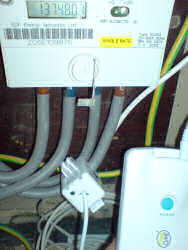 OWL Sensor and sender unit
clipped round the incoming
mains cable
Working backwards from that high usage it was interesting to see just how low I could get the figure. In my case I work from home and as a software developed have a few more computers than your average household (including several servers that have to run 24x7). Turning almost everything but the essentials off we can get the power down to around 300W. Still not great (think 100W light bulbs again - a unit of measurement that I find easier to visualise).
One downside of the OWL is it's limited ability to show low levels of power consumption. One of the things that is drilled into us is how much power, and by inference how much carbon can be saved, just by unplugging the TV instead of leaving it on standby. In practise the current used by a modern TV in standby is too low to show up on the OWL. The minimum measure is 10W.
The OWL offers a range of different ways of displaying your power consumption. I've mentioned KW (1000 watts) and tariff (how much you're paying in £s). You can also display Kg of carbon released into the atmosphere. Personally I found that to be too abstract a concept - my preference being KW.
Of course the OWL only measures your electricity supply. For many people gas plays an equally important part of their energy bill. While the OWL can't measure this - the display does include both temperature and humidity. Careful reference to these can help to inform you when to adjust the thermostat and save more environment damage in that way.
Does it change habits? Well - that will depend on the individual, but it is fairly addictive, much like watching an auction on eBay. I now periodically check the meter before bed and then spend 10 minutes or so hunting out things that should have been turned off. The main culprits being the kids PS2 and various music players!
The benefit of a gadget like the OWL is that it takes something fairly abstract that we all know we should be worried about and turns that into hard cash. From there it's a small step to want to reduce the amount of cash you're forking out on power each month. It's a great idea and the implementation with the OWL makes it simple to install and trivial in use.
The OWL is available directly from Owls website : http://www.theowl.com (for £34.95) or from Amazon
(£32.11 including delivery)