Oregon Weather Station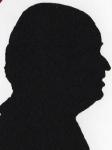 These items seem to develop as the first one I saw was a very basic offering, then a rather nice solar one that even works through the winter with no external power, here an offering that gives barometric readings as well as a UV option.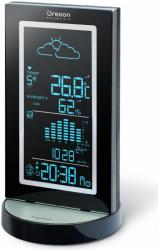 click image to enlarge
As we finally seem to come to the end of the longest hot and dry spell for a very long time perhaps a weather station will start to give useful advise rather than hot and dry.
It is 17.5x9.5x1.5cm the exception is that it sits on a circular base so for the first 1.5cm it is 9cm round. The base contains three 'AAA' batteries which are there to maintain readings when power is not on however the unit will not display anything when mains power is not available.
The display is blue on a midnight blue background and in an unlit room can be quite bright. Unlike others I have reviewed this is made of metal.
As it only displays when it has mains power it is designed to sit in the home on a desk or table near a power point. The hard wired DC input is 1.8metres long ending in the plug/power adaptor.
The screen is divided into four horizontal sections; the top part is a graphic depicting the advance weather. The next area shows the current temperature and humidity percentage. Next is a barograph reading in form of a graph showing in six bars the readings from 24 hours, 12hours, 6hours, 3hours, 1hour ago and the current reading. Under this the more normal showing in inches IE 29.73.
The lowest area is the time in digital format and the day abbreviation.
You can purchase additional VW, temperature and humidity sensors. The one unit provided is a Thermo-Hydro-RF Clock sensor, this is designed to be mounted outside however not in direct sunlight and it also needs some weather protection as it is powered by a single 'AA' battery.
Your display controls are in two columns of four on the rear of the unit. They are Alarm, Select, Up and Channel in one column, the other column has Mode, History, Down and Memory.
There is a comprehensive User Manual with the first 24 pages in English.
Thermo-Hydro-RF Clock sensor can be set to one of five channels to connect to the main unit and according to the manual can be located up to 70 metres away in an open area. It certainly worked correctly around 15metres away in the shelter of the edge of my garage.
If the readings you get are not what you expect the manual lists a range of things you can do which include setting your Altitude.
Oregon do a large range of Weather Stations and while some suit certain areas and conditions it should be possible to search their site – link at the end – and find one that suits you.
I mentioned in the beginning the rather good Solar unit that sits on my kitchen windowsill and I have never given it any power since it was first put in position. So Solar is perhaps a misnomer as the winter and spring had little sun so it must be charged by daylight.
Today it is not just temperature that matters to people but also Ultra Violet exposure and pollen in fact the whole gammit. So if you need or want those sensors are available.
The Oregon Scientific Metal Weather Station BAR908HG is available from the first link below for £76.47 with free delivery.
http://www.amazon.co.uk/gp/product/B001L56Q42?ie=UTF8&tag=gadge0a-21&linkCode=as2&camp=1634
http://uk.oregonscientific.com/cat-Weather-sub-Designer-prod-Metal-Weather-Station.html