KiFit Device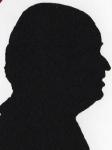 Do you want to lost weight, gain weight or just maintain your current weight? This small device can help you to obtain your targets if they be daily, weekly or some other measurement. I tried it for ten day recently.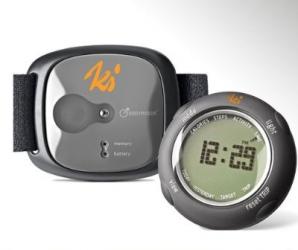 The device sits under your clothes on your upper left arm; it is around the size of a large watch and is held in place by a strap secured by Velcro. You wear it all the time apart from showering/bathing/swimming. It has two LED's on the front for memory and battery. The back has raised dimples on either side of a slight curve these take information from your skin and store it until you transfer it to either a wireless receiver or your PC via USB.
The wireless receiver is the size of a normal watch but slightly thicker and it can be clipped to a belt or just placed in a pocket, it does not actually need to go with you as you can transfer data when you arrive at home or work.
So that is the hardware, the online bit is a service. You buy the hardware and you subscribe to the service, still a lot cheaper than most gyms, however as you are not actually pushed to improve – apart from messages – will it do the job?
Looking at the outside of the watch there are four buttons at 10, 2 5 and 8. Mode, Light, Reset Trip and View. When you press the mode button it tells you to press the button on the face of the armband device to sync. I found this only worked when on your arm but you can press it through clothing. There are two groups of four words written round the outside of the dial. Calories, Steps, Activity and Time at the top and Today, Yesterday, Target and Trip at the bottom.
So if you are out running or walking you can let the device tell you when you reached your daily activity target.
The online service stores all your longer term data you can choose how you look at it but the default is daily. One of the items you need to enter daily is your weight and I suspect for this reason it might appeal to girls more than boys. You – to get the full advantage of the product – enter your meals from a database of components stored online, I found this did not contain a number of basic things I eat but you can add your own ingredients.
It is meant to be able to tell you how much sleep you achieved by the amount of movement you make in the night. It always seemed to overestimate to me but as I say it was only a ten day test. I am not sure what it considers sleep as opposed to rest.
The simple principle is that there are 3500 calories in a pound of fat. So if you burn 3500 calories you lose a pound of fat. As I said at the start you can use this to gain weight in the same way but by eating more than you burn and you can maintain weight by keeping everything in balance.
Currently the transfer cannot work with 64bit versions of Windows as it uses Java and Flash and 64bit versions that it likes do not seem to exist. However if you have a 64bit version you will find that there are two versions of Internet Explorer and if you use the 32bit (unnamed one) then everything should load correctly, I still encountered annoying messages about not all the items being secure but I expect –hope- that will soon be remedied.
Once you have logged into your account you see a screen giving Calories Burned, Calories Consumed, Calorie Balance, Physical Activity, Steps Taken, Sleep Duration and Weight all in a column with current figures displayed beside them.
If you go to week view then by clicking a down arrow to the left of the headings above you see the figures in daily increments for the last week. I am curious about the 69% sleep efficiency figure it gave me.
Currently I see that you can purchase the hardware for £99.99 and then you pay £20.87 per month for 11 months or £16.41 for 11 months if you do not have the watch display, in the latter case you can only transfer data via USB.
Full details available from the link below.