Searching for history - and a little treasure!

Published June 26, 2007 Author
petew
Review controls
Bill Wyman caught the treasure hunting bug back in the late 60s but it wasn't until the '90s that his interest took him to invest in a metal detector, and he's been hooked ever since.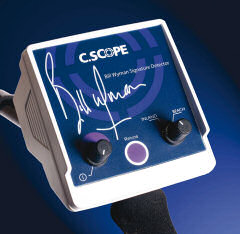 Keen to encourage others to adopt his metal detecting hobby, and particularly children and schools, Bill has now put his name to a simple to use detector from C.Scope : The 'Bill Wyman Signature metal detector'.
Bill's requirement for the product were ease of use and light weight so that it could be used by anyone. The result is both of these. The detector has two rotary controls and a 'Retune' button. The left hand control switches the unit on and adjusts sensitivity, the right allows you to select whether you're hunting inland or beach (apparently the salt/sand changes the way the signal works).
Having switched on you have to 'tune' the detector using the sensitivity control and the retune button. Once that's done you're ready to go. As you sweep the detector head over the ground you are presented with two audible tones (with the inland setting). For ferrous (Iron) metals you are given a low-pitched tone, for other metals that are more likely to be of value, you get a high-pitched tone.
All output is audible through a built in speaker, or if you prefer a headphone socket. I tried both. The audio output is in the form of a high-pitched whistle (for non-ferrous metal) and I found that listening through headphones was just painfully loud and so the speaker would be my choice. I think the headphones would however allow you to detect fainter signals and would probably be useful if you're searching in areas with significant background noise.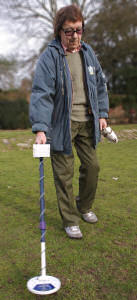 As well as being light-weight this metal detector has an arm rest so that you balance the weight along your arm. In practice the combination of weight, arm rest and balance meant this product was very easy to use. Neither of my daughters, 10 and 12 years old, had any problems 'scanning' the garden, although given the weather we've had over the last few weeks, neither were too interested in extended use!
A dedicated web-site has been set up to accompany this metal detector (http://www.billwymandetector.com). There are two parts to the site - one general area providing background information and an 'owners area'. To enter the owners area you have to enter your email address. Once inside you have access to the manual in PDF format (no printed manual comes with the device) along with a very useful short video that covers both how to use this specific metal detector and also general hints and tips on how best to search for and then how to retrieve anything you find.
The owners area also includes the ability to 'Show Bill' your finds. This form allows you to upload a picture of your various finds. Unfortunately there doesn't seem to be a users gallery of finds, although there are samples of Bill Wyman's own discoveries.
At around £125 this is by no means the least expensive option for the budding treasure seeker. Any quick search on Amazon will return any number of metal detectors ranging from £30 upwards. The Bill Wyman detector is made by C.Scope and I so asked them what they saw as the key differentiators between their product and less expensive competitors. Their response : "Cheap detectors appear to have good sensitivity in the shop but as soon as you lower the search-head to the ground they become highly unstable making them almost useless in some cases.
"The Bill Wyman Signature Metal Detector is designed and manufactured in the UK by people who understand everything about detectors. You can pay £1,000 and more for a detector. We say that the Bill Wyman detector gives you as good a chance of finding treasure as the man with the £1,000 detector...that's because of all the know-how that has gone into Bill's machine, and it's sheer usability. At £125 it is tremendous value for money."
Despite the appalling weather of the last couple of weeks I did manage to get outside a few times to check for hidden hordes in my garden. Unfortunately all I managed to recover was one of our dinner knifes, undoubtedly buried in the recent past by one or other daughter, and a piece of aluminium foil! I hope you have better luck!